News
Science Round-Up: Research finds improved mental health after first corona wave
---
This article is more than 3 years old.
Elsewhere, Denmark's west coast may be disappearing into the sea while e-fuels are seen to replace fossil fuels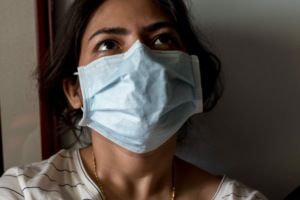 Research has shown that the population's mental health improved by the end of April in the aftermath of the Coronavirus Crisis when experts were initially pessimistic about Danes' well-being.
A research conducted by the Department of Clinical Medicine at Aarhus University showed reduced psychological wellbeing for women in particular in the beginning of April.
However, the end of April showed a positive trend on the psychological well-being index as measured by the World Health Organization.
'Light at end of tunnel'
Researchers say the improved mental health was in line with a significant decline in the rate of infections and the number of coronavirus-related deaths, which led to a gradual reopening of society.
"It shows that there is light at the end of the tunnel – and that's a story worth telling," said Søren Dinesen Østergaard, professor at the Department of Clinical Medicine at Aarhus University.
Østergaard however pointed out that not all societies would resemble the Danish one and the situation may change if and when a potential second wave of the pandemic occurs.
---
Climate change: Danish coast slipping into water
Researchers at Aalborg University found that erosion of the west coast of Denmark is causing it to disappear into the sea. The increasing rate of erosion may be linked to climate change. The west coast has experienced stable erosion over the last 40 years. Researchers said that climate change may be contributing to coastal erosion but in an expected way – by causing more rainfall, which in turn causes more landslides on the beach.
E-fuels can replace fossil fuels – study
Airplanes, ships and lorries in the future may be powered by e-fuels instead of fossil fuels, research by Technical University of Denmark (DTU) has found. Experts believe that electro-fuels or e-fuels have the potential to replace fossil fuels in heavy vehicles that are difficult to electrify. Researchers however say that the challenge is to make the technology cheap and efficient for e-fuels to be able to compete with fossil fuels.
Explained: Why laundry dried outside smells good
Researchers at the University of Copenhagen's chemistry department discovered that towels dried outside produce a range of aldehydes and ketones which make the laundry smell better. The towels were washed thrice by hand in water that contained no particles, microorganisms or salt. The study found that sun-dried laundry towels produced organic compounds that human noses associate with the scent of plants or perfume.