News
Pompeo to discuss Arctic and China in Denmark visit
---
This article is more than 3 years old.
US interests in the Arctic as well as its rivalry with China are key issues the Secretary of State is expected to discuss with leaders in Denmark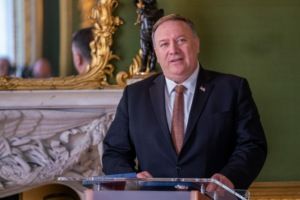 The US top diplomat, Mike Pompeo, visits Denmark on Wednesday with the Arctic and China expected to be high on the agenda of his meetings with Danish leaders.
Coming from a trip to London, the US Secretary of State will first meet with Prime Minister Mette Frederiksen in Copenhagen on Wednesday morning.
He will then attend a meeting with the foreign minister, Jeppe Kofod, as well as Faroese minister for foreign affairs and culture Jenis Av Rana and Greenlandic minister for foreign affairs and energy Steen Lynge.
"The Kingdom of Denmark and the United States are steadfast allies and partners, and we greatly value Denmark as a leader in promoting peace throughout the world," Pompeo said ahead of the visit.
Arctic, China and Russia
Pompeo's visit comes as the US expresses greater interest in Greenland and the Arctic. Last month, the US reopened a consulate in Nuuk. The US Air Force also has a presence at the Thule Air Base in northwest Greenland.
US President Donald Trump expressed interest in buying Greenland last year but Frederiksen sharply rejected the proposal, fraying ties between the two allies.
Yet ahead of Pompeo's visit, the US State Department highlighted cooperation in efforts to keep the "Arctic free from conflict, particularly as we see increased activity in the region from Russia and the People's Republic of China".
Global coalition against China
Pompeo has also said that China will be on top of the agenda of his visits to the UK and Denmark.
The US and China have clashed on several issues including the Coronavirus Crisis and the new security law for Hong Kong.
In London on Tuesday, Pompeo said that the US wanted to build a global coalition to counter China as it increasingly becomes assertive under President Xi Jinping.
This is the first visit of a US Secretary of State to Denmark since 2016. The last was that of John Kerry under the Obama administration.
The US is Denmark's largest non-European trading partner as well as a NATO ally.