News
Denmark gives aid to Lebanon following explosion
---
This article is more than 3 years old.
Danes send 12 million kroner and chemical protection suits to help aid workers on the ground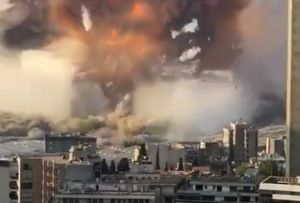 A day after the development minister, Rasmus Prehn, pledged to help Lebanon with aid in the wake of the massive explosion in Beirut, Denmark has followed through.
Denmark will send 12 million kroner in aid and 600  chemical protection suits to help protect emergency response units tackle chemical spills that resulted from the blast.
"Among other things, the money will go to the hospitals that are under duress and in desperate need of medical supplies to help the thousands of injured," said Prehn.
"Additionally, we are focusing on securing access to food, water and shelter for the 200,000-300,000 people who have suddenly found themselves homeless.
READ ALSO: Denmark offers aid to Lebanon in wake of Beirut blast
Casualties continue to rise
Prehn underlined that the explosion in Beirut couldn't have occurred at a worse time for Lebanon, thanks to a toxic cocktail that includes the Coronavirus Crisis, a beleaguered economy and 1.5 million refugees present in the country.
So far over 135 people have been confirmed dead and over 5,000 injured followed an explosion in a warehouse in Beirut's harbour area.
The investigation remains underway, but it is believed that the blast occurred after a massive amount of ammonium nitrate being stored in the warehouse was somehow ignited.