News
Former US official: Trump wanted to swap Puerto Rico for Greenland
---
This article is more than 3 years old.
Ex-official Miles Taylor said it was one of the most disturbing conversations he had with the US president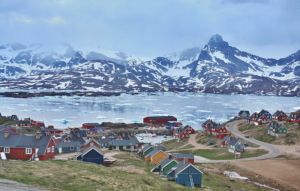 Greenland found itself in the world headlines this time last year after it was revealed that US President Donald Trump wanted to purchase the island. 
The drama took another turn when the US president described Mette Frederiksen as "nasty" after the Danish PM laughed off the notion.
And now, a former Department of Homeland Security official, Miles Taylor, has added another chapter to the Trump/Greenland saga by recalling an incident that took place in 2018.
After being asked which moment involving Trump he found the most disturbing, Taylor was quick to say: "We could probably go on for days about that."
"The president has talked before about wanting to purchase Greenland, but one time before we went down [to Puerto Rico], he told us not only did he want to purchase Greenland, he actually said he wanted to see if we could sell Puerto Rico … swap Puerto Rico for Greenland. Because, in his words, 'Puerto Rico was dirty and the people were poor'," Taylor told MSNBC.
READ ALSO: Most Greenlanders want independence at some point in the future
On Biden's team now
Taylor didn't see Trump's comments as a joke and went on to reveal that the US leader had spoken with disdain about the US territory and its people, who had just endured a catastrophic hurricane the year before.
The former official, now an ardent Trump antagonist and supporter of Joe Biden as the next US president, has been attacked by the Trump administration following his remarks.
Trump himself claims that he has never met Taylor and referred to him as a "lowlife".