Things to do
September Events: Connecting with the community at International Citizen Days
---
This article is more than 3 years old.
Learn about finding a home, jobs, childcare, language classes, establishing a network and kick-starting your social life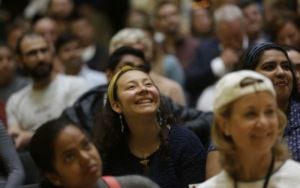 International Citizen Days
Sep 14-19; online & various locations; free adm; ihcph.dk/icd
International Citizen Days is going virtual, bringing together public authorities, private organisations and local communities from Greater Copenhagen together for live-streamed talks and consultation with experts. Get inspired on how to settle here: finding a home, jobs, childcare, language classes, establishing a network and kick-starting your social life. The event on the 19th will be off-line at different venues, which will be confirmed over the next three weeks.
Ulug Bek: Please Step Aside
Aug 28, 20:00-22:00; Kellermans Bar & Grill, Teglholmsgade 36, Cph SV; 80kr, billetto.dk
New rising comedian Ulug Bek presents his journey through Danish hygge. He wants to share his struggles with the Danish language, finding Danish friends and surviving julefrokosts. The organiser warns about his controversial opinions!
CPH Watersports Festival
Sep 5, 10:00-22:00; Jollevej 10, Cph S; free adm, cphwatersportfestival.dk
Summer might have gone by, but aren't swimming and huddling the two things penguins do in winter? Enjoy windsurfing, kitesurfing, stand-up paddling and at this festival with friends and family. Suitable for all ages.
ARTNSIPS: Painting & Drinks
Sep 4, 18:00-20:00; Steel House, Herholdtsgade 6; 349kroner, artnsips.ticketbutler.io
This is a social painting event accompanied by a professional artist. Unleash your creativity while you sip on your favourite drink! All materials will be provided and the first drink is included in your ticket. No experience is needed.
Globe Quiz
Sep 10 & 24, 19:00; The Globe, Nørregade 43, Cph K; 40kr
The winners get 1,000 kroner, runners-up 500, and there is a 8,000 rollover. Simply the best in town.
Tivoli Mad & Vin Festival
Aug 29-Sep 20; Tivoli, Vesterbrogade 3, Cph K; regular entrance prices
Offering offers many different gastro experiences, Tivoli will serve smørrebrød that celebrate food and wine. Register at tivoli.dk to take part in the various events. Danish Agriculture & Food Council is a co-organiser of the event.
Painting & Meditation
Sep 5, 13:00-15:30; Art Escape Studios, Heinesgade 13 kld.tv, Cph N; 250kr, idaglad.com
Kaspar Meitil, a psychologist and meditation teacher, and Ida Glad, an artist and life coach, will guide you through a therapeutic art experience. Explore the meeting between the creative, the meditative and the relational. No experience is required to participate in this event.
Fermentation Workshop: KRAUT
Sep 3, 17:00-20:00; Bispeparken, Cph N; 200kr
Herbal therapist Rosana will enlighten you about fermenting cabbage, our digestive systems and gut bacteria – why are fermented foods so good for us, and what happens during fermentation? After the introduction, visitors can try fermenting a mix of cabbage and spices.
SAMBA Sundays at Reffen
Aug 30, 16:00-20:00; Reffen, Refshalevej 167A, Cph K; free adm
The last Sunday of August shall be celebrated with some grooves! Hours of delicious Brazilian music, including classic 1970s samba, will be selected for your listening pleasure by Epic Vinyls from Brazil, a Danish/Brazilian DJ team.
Buster Film Festival
Sep 21-Oct 4; Flæsketorvet 60 3, Cph V; ticket prices vary, buster.dk
Scandinavia's largest children's film festival, Buster Film Festival, draws up to 35,000 kids, teachers and families every year. The target group is 3-16 years.
Kulturhavn
Sep 11-13; Ved Slusen 27, Cph S; free adm
Kulturhavn, the annual harbour festival, shines a light on all the unique opportunities that the blue urban space offers the city. The festival program offers an ocean of free, creative and engaging activities, including concerts, sports, games and much more. Everyone can participate!
Lights on Vesterbro
Sep 3-6; various venues; vesterbrolokaludvalg.kk.dk
The Vesterbro Local Committee is organising an initiative dedicated to musicians under financial pressure due to the Coronavirus Crisis. A total of 34 cultural events are planned in the neighbourhood's cafes and pubs. Brighten up Vesterbro with your-long-forgotten party soul!
Rum Tasting
Aug 28, 17:00; Dexter's Bar, Åboulevard 9A&B, Cph V; 285kr
Explore the diversity of Caribbean rum. Learn what to match it with and how to mix it – all while listening to some reggae. Using a diverse and authentic assortment supplied by the wine and spirits importer Juuls Engros, this will help you to develop a better understanding of rum's complexity.
Doctor's Orders
Sep 12, 20:00; Improv Comedy Copenhagen, Frederiksholms Kanal 2, Cph K; improvcomedy.eu/events
Aren't we all more conscious about our health than ever nowadays? Get healthy through laughter. You've been prescribed a show full of surprises – every show is as different as it is memorable. Check these performers out because these are your Doctor's Orders. Grab a ticket! A drink is included!
Kennedy's Quiz
Sep 7 & Oct 5, 19:30, Gammel Kongvej 23, Cph V
A great night with 800 kroner for the winning team.
Enter Art Fair
Aug 28-31; Nordsøvej 4,Cph Ø; free adm
Enter Art Fair is the most prominent international art fair in the Nordics. This year ENTER presents work from 60 galleries and more than 250 artists from all over the world. An artistic program meanwhile offers talks, film installations and performances.
Jazz in Gadekøkkenet
Aug 30; Strandgade 95, Cph K; free adm
Gadekøkkenet, one of the cosiest street food venues, is inviting Moment's Notice to play a wide range of well-known melodies from the American songbook – the likes of Frank Sinatra, Armstrong Louis, Nat King Cole, Nina Simone, Miles Davis and many more.
Calligraphy for beginners
Sep 4, 17:30-21:00; Rådhuspladsen, Cph K; 950kr
Learn the basics of copperplate calligraphy – hand-lettering – with a dip pen and ink! It's a skill that is beautiful, fun, and will stay with you forever. You get to take the offered alphabet workbook and all your art supplies home.
Markedsdage at Reffen
Aug 29, Sep 11 & Sep 26; Refshalevej 167A, Cph K; free adm
Reffen's cosy market promises a wealth of exciting, creative and fine stalls. Explore gorgeous clothes, soap, art and glass, along with beautiful handmade jewellery and trinkets for the home! Find unique gifts for those you love.
CPH English Comedy Night
Sep 3, 20:00; Copenhagen Admiral Hotel, Toldbodgade 28, Cph K; 110kr
With Irish comedian Sean Finnerty, seen on The Tonight Show with Jimmy Fallon, as the headliner the show confidently promises laughter. He will be joined by David Duff (Ireland) and Loren Mayshark (USA). The venue has a pop-up bar serving fairly-priced drinks.
Summer at Louisiana
ends Aug 30; Gl Strandvej 13, Humlebæk; 130 kr, lousiana.dk
While snacking on produce from the museum's new mini-café, enjoy a video portrait of the French superstar Zinedine Zidane on a big screen in the lower park area. While the Japanese artist Yayoi Kusama's work has been installed in the Lake Garden, blending into the museum's beautiful scenery.
Outdoor salsa in Fælledparken
Aug 28, 18:00-22:00; Dansepladsen, Edel Sauntes Allé, Cph N; free adm
Enjoy open-air salsa dancing in Fælledparken! Salsa Libre DKs will be delivering the best aalsa, bachata, merengue, reggaeton and Cuban rueda de casino tunes.
In Bach's footsteps
Sep 8 20:00; Royal Library, Christians Brygge 8, Cph K; 260kr, billetlugen.dk
Composer Arash Safaian's re-interpretations of the acclaimed Bach melody will greet Copenhageners at the Royal Library as the season opens again. Two prominent soloists – German pianist Sebastian Knauer and the vibraphonist Morten Friis – together with 20 virtuoso strings will take the stage. The evening starts with the original 'Piano Concerto No. 1 in D minor'. Safaian's interpretation of 'ÜberBach' follows.
Equilibrium
Aug 27-Oct 3; Last Resort, Borgergade 2, Cph K; free adm
French artist Justin Morin is inviting everyone to his fourth solo exhibition at Copenhagen's international contemporary art gallery Last Resort. At this exhibition 'balance' is stressed – as the name suggests. Morin's art plays with interesting materials such as plexiglass and silk draperies. The gallery is keeping a low-profile to maximise the surprise factor. Only the name of the central piece has been disclosed: 'How to drape a ray of light hitting a diamond'. Registration is required for the exhibition's opening on August 27 and 28.
SorgBar – Marc Facchini
Sep 17 & Oct 15 19:00-22:00; EKHO EKHO, Rafshalevej 207A, Cph K; free adm
The national association for life and death, Landsforeningen Liv&Død, is launching a series of free events for those who have lost their loved ones. The 'SorgBar' events will take place on September 17 and October 15 at EKHO EKHO, a music centre on Refshaleøen in Copenhagen. According to organiser Adam Scavenius, music will play a central part in SorgBar. While there is no fee, there are a limited number of places, so registration is required. Learn more at livogdød.dk.
CHART 2020
Aug 28-30; 28 different venues; different prices, chartartfair.com
The leading contemporary art event in the Nordic countries CHART takes place in the Nordic capitals of Copenhagen, Helsinki, Oslo, Reykjavík and Stockholm this year. While de-centralised from the usual event venue, Kunsthal Charlottenborg, it will exclusively exhibit the work of 76 female artists. The audience is invited to talks and other events where they can meet some of the most prominent artists on the Nordic art scene – such as Lilibeth Cuenca Rasmussen or Marie Lund in Copenhagen. Tickets must be purchased in advance on the website.