News
National Round-Up: Mette Frederiksen speaks up for victims of sexual harassment
---
This article is more than 3 years old.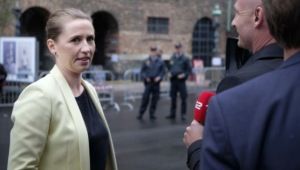 Sofie Linde, a Danish TV host, recently spoke up about her experiences with sexual harassment in the media industry, setting off a wave of nationwide discussions about the issue.
PM Mette Frederiksen spoke up about the issue in a Monday Facebook post.
"It starts and ends with the cultural change in the person who cannot figure out where the line is," she wrote.
"Then comes the responsibility of the management. Not the other way around."
Not in Denmark
She urges companies and organisations to establish a framework allowing for egalitarian relationships in the workplace.
In simple words, sexual harassment is wrong, contends the PM.
Workplace sexual harassment, or any other forms of it for that matter, are not a part of what Danish society stands for, she added.
The Sofie Linde letter
Around 1,615 women from the Danish media industry have signed a letter highlighting the issue of sexual harassment and the need to bring it to a larger audience.
Linde particularly wants people to know that sexism, especially in the media industry, still exists and is heavily normalised.
---
Michelin-starred restaurant Relæ closes its doors
Christian Puglisi, the owner of Relæ, is closing his restaurant at the end of the year. The news has come as a surprise, as the restaurant managed to push through the Coronavirus Crisis without too many problems. Puglisi feels the restaurant lost touch with its aim to promote sustainable living and consumption. "In the end, it felt like a corporate system," he said.
Denmark a European leader in coronavirus testing
Over the last week, 4,000 coronavirus tests have been carried out for every 100,000 Danes, according to the European Center for Disease Prevention and Control (ECDC). In comparison to other countries, Denmark tested 3,833 people per 100,000 inhabitants in week 36, while Sweden tested 1,234 and the Netherlands just 1,003.
More people using electric bikes than ever
Initially they had a bad rep for being an 'old people's bike', but electric bikes are now hitting Copenhagen's bike lanes at a constantly increasing rate. According to Danmarks Statistik, 63,000 electric bikes have been imported to Denmark. However, there has also been an increase in bike accidents, although experts believe it is a temporary offset as Danish cyclists are merely adapting to the new circumstances.
Mysterious seeds appearing in Danes' mailboxes
Some 15,000 small envelopes with various seeds have been intercepted by København International Postcenter. It is believed that nobody has ordered them. The seeds might be part of a 'brusching scam', which involves the senders of the products giving companies fake reviews. The public are advised to destroy the seeds if they receive them – by cooking them on a high setting in a microwave – and then throw them away into the biowaste.
Higher incomes for everyone – except youths
In the last decade, the Danish population has experienced a significant increase in their disposable income – except for young people. While the average person above the age of 25 has seen their disposable income increase by 28 percent,  workers under the age of 18 have experienced an 11 percent drop, while 20 to 24-year-olds have seen a 3 percent fall.
More time-slots for coronavirus tests in Copenhagen
Three new coronavirus test centres opened on Saturday in Nørrebro, Brønshøj, and Brøndby. To help out with the increasing demand, around 60 medical staff are being deployed to Greater Copenhagen to help out, along with 20 test cars. Reservations for new testing time slots can made at coronaproever.dk.
Parental allowances for families with home-bound children
A new agreement has been put in place to allow parents to receive an allowance when their children are sent home from school or daycare due to coronavirus. It is meant to provide a safety net for those who are unable to work from home and are suddenly forced to stay home and take care of their children. The agreement is expected to come into force on October 1.
Join nationwide trash-collection campaign
Danes are hitting the outdoors to collect trash this Saturday. It has become a ritual for many Danes to start their spring by collecting trash in their local neighbourhoods, and due to the coronavirus the campaign was postponed to the autumn. A focus this year will be disposable facemasks.