News
International Round-Up: Denmark joins human rights mission to Belarus
---
This article is more than 3 years old.
Elsewhere, expressions of Danish unity, despite new quarantine rules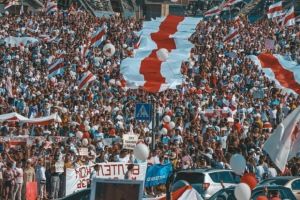 With the backing of Denmark and 16 other countries, the Organization for Security and Co-operation in Europe (OSCE) is to set-up an independent investigation into human rights violations in the run-up to the Belarusian presidential election in August 2020.
The foreign minister, Jeppe Kofod, described the aim of the mission as to "hold the Belarusian authorities accountable for their gross violations of the rights of the Belarusian people".
Furthermore he promised that Denmark would continue to push for "targeted EU sanctions to be implemented as soon as possible". 
The mission was launched under the OSCE's 'Moscow mechanism', which was most recently applied in Russia in 2018 and Belarus in 2011. The report is expected in six to eight weeks.
---
More countries added to quarantine list
Five more countries have been added to the list of countries to which all unnecessary travel is discouraged. The directive comes into force at midnight tomorrow. The Netherlands, Portugal, Switzerland, Hungary and Austria were the new additions to the list of quarantine countries, as all have infection rates of above 30 per 100,000. On the other hand, San Marino has been removed from the list.
Norway to extend veto to the whole of Denmark
Norway is expected to add the regions of North Jutland and Zealand to the quarantine list, meaning all of Denmark is now included. Travellers from Denmark will therefore have to quarantine for ten days on arrival.
Nordic foreign ministers united
Following a meeting on Bornholm yesterday, the foreign ministers of the Nordic countries released a joint statement covering issues of international affairs and foreign policy. They condemned the poisoning of Alexey Navalny, expressed solidarity with the people of Belarus, and discussed future efforts for continued Nordic co-operation.