News
Missing for 400 years: Archaeologists discover missing 17th century warship 
---
This article is more than 3 years old.
Wreck sheds light on a massive naval battle that signalled the beginning of the end of Danish prominence on the European scene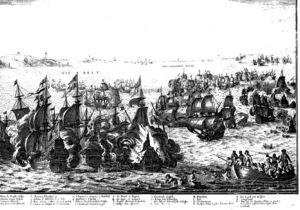 Archaeologists from the Viking Ship Museum have uncovered the remains of the Danish long-lost warship 'Delmenhorst'.
The wreck, discovered off the Danish coast near Rødbyhavn in south Lolland, went down during the Battle of Fehmarn in 1644.
It is the last Danish sunken ship missing from the fateful battle, which turned out to be the final battle of the King Christian IV era – he lost his right eye in battle four months earlier.
Realising that the battle had been lost, the 'Delmenhorst' was intentionally grounded near Rødbyhavn in the final hours of the battle to a joint Swedish/Dutch fleet because the Danes hoped to defend it using a massive cannon in the harbour town.
However, the crafty Swedes sacrificed one of their own ships by setting it ablaze and sailing it into the 'Delmenhorst', which consequently caught fire and sank.
READ ALSO: Archaeologists unearth secret tunnel at Østerport Station 
End of Danish power
The battle was waged as part of the Torstenson War, which signalled the end of Denmark's time as a European power. After the loss, Sweden replaced Denmark as the leading power in the Nordic region. 
The Delmenhorst, located about 150 metres off the Danish shore, is unique because it is one of the first ships constructed from drawings. 
The wreck was discovered as part of the work on the Fehmarn Bridge connecting Denmark and Germany.
Because the wreck is almost completely buried in the seabed, archaeologists will leave it in the hope that experts will have the technology to glean information from it in the future.