News
Denmark leads the way at UN General Assembly
---
This article is more than 3 years old.
Mette Frederiksen discusses global co-operation and the pioneering work carried out by Denmark in tackling global poverty and the climate crisis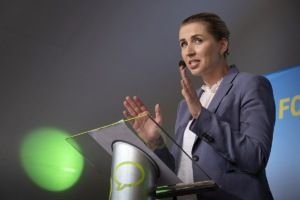 "Denmark is ready to play its role," Mette Frederiksen declared in her speech to the UN's General Assembly on Friday night.
In a short address she discussed the growing need for global co-operation at a time when the world faces more challenges than ever before, and she put Denmark forward as a leader in the fight against climate change.
Pandemic at the podium 
The coronavirus pandemic naturally dominated much of the discussion. It framed nearly every point the PM made, as it has done for the majority of the speakers so far.
"We insist on using the pandemic as a wake-up call," she said.
Frederiksen drew attention to the huge financial assistance Denmark has provided to some of the most vulnerable communities, whilst raising the fear that the pandemic risked turning back the clock on the fight for gender equality.
Green, green Denmark 
In her closing remarks she pushed Denmark forward as a global leader. "We are ready to take the lead," she said, referring to the UN's sustainable development goals and the Paris Agreement, outlining Denmark's plans to reduce emissions by 70 percent "in the years to come".
The UN's climate change conference (COP26) was meant to be held in Glasgow in November, but has been delayed until next year. Pointing to this deadline she said that "political leadership and high ambitions" were urgently needed.
Unfair migration 
Also mentioned in her speech was Denmark's compliance with "the framework of international law and convention regarding migration and refugees".
READ MORE: Authorities reject criticism of detention centre deemed 'not suitable for people'
Describing Denmark's policy of disincentivising immigration, she called for an updated asylum system that "is more fair and actually also more humane".
This year marks the 75th anniversary of the UN's establishment, but despite the new appearance of a global pandemic this year, it seems that many of the concerns of the past have not gone away.