News
Nobel Prize winner to get Denmark's top culture award
---
This article is more than 3 years old.
The 2021 Sonning Prize will go to the dissident Belarusian writer and historian, Svetlana Alexievich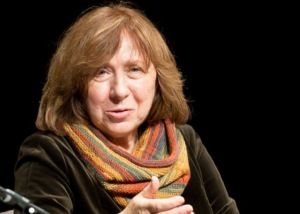 The University of Copenhagen (KU) has announced that it will award Belarusian author Svetlana Alexievich its prestigious Sonning Prize.
A winner of a Nobel Prize in Literature in 2015, Alexievich's books have been translated into 52 languages in 55 countries.
Perhaps her most famous book is 'Voices from Chernobyl' from 1997, which conveys oral accounts of Soviet citizens who endured the nuclear disaster in 1986.
More recently, the immensely-popular miniseries 'Chernobyl' was based in large on that book.
It is also part of her 'Voices of Utopia' works, a five-book legacy published between 1985-2013.
"Alexievich has enriched our common European narrative with neglected and unknown aspects such as life during the Second World War seen through the eyes of Soviet children and women," said Tine Roesen, an associate professor at the Department of Cross-Cultural and Regional Studies at KU.
"The aspect belongs to the many women who served in the Soviet army, the very young soldiers in Afghanistan and the mothers who received nothing but a sealed zinc coffin."
READ ALSO: Denmark refuses to recognise Lukashenko 
Target of Lukashenko
More recently, the 72-year-old has hit the news for her involvement in the protest movement against long-time president Aleksandr Lukashenko in Belarus.
Alexievich has been questioned and harassed several times by the authorities for her membership of the Coordination Council – established by the Belarusian opposition in the wake of the controversial election last month.
"We're looking forward to welcoming Svetlana Alexievich and to celebrating her works and contribution to European culture," said Henrik C Wegener, the rector of the University of Copenhagen.
"Her efforts towards the people of Belarus after the presidential election in August is a clear extension of her life's work and calls for even more recognition of her courage and efforts."
READ ALSO: Denmark blasts Belarus for kidnapping opposition leader
Winston was first
The Sonning Prize is Denmark's top award in the realm of culture – awarded biennially for outstanding contributions to European culture.
Named after the Danish author Carl Johan Sonning (1879–1937), the prize was first awarded in 1950 to Winston Churchill.
Other previous winners include Niels Bohr, Laurence Olivier, Ingmar Bergman, Vaclav Havel, Jørn Utzon and Lars von Trier.