News
Danish researchers can predict Trump's COVID-19 bout … roughly
---
This article is more than 3 years old.
Researchers at the University of Copenhagen can use a data model to show how the virus will impact the US president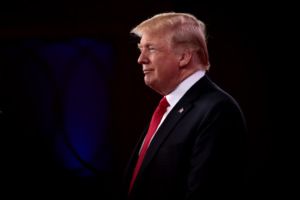 Media around the world are on high alert following the revelation that US President Donald Trump has contracted the coronavirus.
Now, Danish researchers at the University of Copenhagen (KU), in co-operation with  Rigshospitalet and Bispebjerg Hospital, have revealed they can offer a decent prediction on the outcome of Trump's battle with COVID-19.
Yesterday evening's prediction included a calculation that, based on experiences with Danes with a similar profile, Trump would have above a 50 percent chance of being hospitalised. 
READ ALSO: Early days … but stats suggest coronavirus second wave may be slowing in Denmark
Plenty of uncertainty
More alarming, however, was that the Danish researchers also predicted that Trump's chances of succumbing to the virus was at 10-20 percent.
The prediction model is made using data concerning Danes infected with COVID-19 from the spring to mid-June, which could make the results a little more uncertain as Denmark wasn't testing as many people then as they are now.
But the biggest variability factor is that Trump is reported to have tested positive without any symptoms – the data used by the Danes are based on patients with symptoms. 
"It's important to remember that we don't have all those dark numbers from the spring in the model, so we overestimate a bit when we say that Trump has over a 50 percent chance of being hospitalised," Mads Nielsen, a computer scientist with KU, told TV2 News.
READ ALSO: Coronavirus Round-Up: New world record for getting tested for coronavirus
Next few days are important
Still, that forecast seems to have held water, as it was reported that the president was taken to hospital for treatment later on last night. 
According to Thomas Benfield, a professor and doctor at Hvidovre Hospital, Trump's profile is quite similar to patients he treated at the beginning of the pandemic. 
"Trump is like the typical patient we saw admitted six months ago:
mid-70s, male, a little overweight and has a chronic illness," said Benfield in reference to Trump reportedly taking Rosuvastatin for high cholesterol.
"The coming days will be critical."