News
Winter dipper's delight: Copenhagen gets new mobile bathing zone
---
This article is more than 3 years old.
Currently located at Kalvebod Bølge, the dipping zone can be used all year round and moved as needed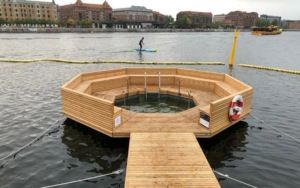 Buoyed by clean water in its harbour area, Copenhagen has become one of the best capitals for swimming and water recreation in recent years.
That has been further improved today with the news that the capital now has its first mobile dipping zone.
The latest waterfront feature is currently located at Kalvebod Bølge and it can be used year-round and moved to new areas if desired.
It is the first of two dipping zones – the other will be ready later this autumn – particularly suited to winter bathing, as they are fitted with bottoms. 
"Bathing in the harbour is and continues to be a special aspect of Copenhagen," said the deputy mayor for culture and leisure, Franciska Rosenkilde.
"But the key factor is that Copenhageners have secure areas to bathe. The mobile dipping zone offers flexibility in terms of location and it can be used year-round."
READ ALSO: Big splash: Reopened pools bring respite to cooped-up swimmers
Adjustable bottoms
The dipping zone is a 6×6 metre octagonal construction that has a pool area in the middle and a gangway on one of the sides. 
The bottom is adjustable to depths between 60 and 140 cm.
The second dipping zone will be a 8×10 metre square construction with a bottom that is adjustable to depths between 60 and 120 cm.