News
Lace 'em up! Copenhagen closing in on new ice rink
---
This article is more than 3 years old.
The modern Østerbro Skøjtehal is set to become a capital hub for skaters and puck merchants alike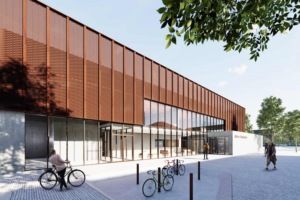 Copenhagen's long-awaited new state-of-the-art skating rink is getting closer to opening its doors in Østerbro.
Located just behind the Østre Gasværk Theatre, the new rink is scheduled to open in March 2021.
The completion will signal significant expansion plans in the area.
Aside from the rink, the new Østre Gasværk area will eventually include new private and affordable housing, an elderly care centre, a parking area and lots of green park and recreation areas.
READ ALSO: Winter dipper's delight: Copenhagen gets new mobile bathing zone
A real barn burner!
"The skating hall will become a key centre of the Østre Gasværk neighbourhood, where a new city space will be created in the coming years," said Copenhagen Mayor Frank Jensen.
The old skating rink in Østerbro was torn down in 2008 and its new replacement will not only cater to a high demand from skaters, but also live up to international standards and offer improved facilities.
The temporary ice rink currently in the area will be removed and enable more football pitches to be laid out for B93 football club.