News
World-weary penguin sets record in Funen
---
This article is more than 3 years old.
The world's oldest penguin is seeing out her days in luxury in Odense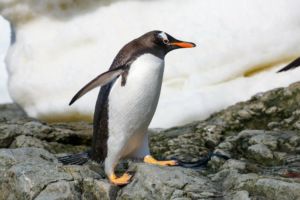 Never ask a lady her age, that's what I was always told. Yet for the Guinness World Records it seems that nothing is sacred …
It is now over 41 years since aptly-named Olde, the gentoo penguin, was born at Edinburgh Zoo, and the records organisation yesterday acknowledged this feat of longevity by naming the now Odense resident the "oldest penguin in captivity".
Worldly experience
The great-great-great-grandmother has seen more of the world than you might expect of a penguin. Born in Edinburgh, Olde also spent time in Montreal before landing in Odense in 2003.
Her kids shared her love for travel: sent to zoos in the US, Canada, Ireland, the Netherlands, Spain and her homeland of Scotland.
Double the normal expectancy
Out in the wild, gentoo penguins tend to live for 15-20 years, whilst in captivity this average rises to around 30. For Olde, though, age is more of a feeling.
Owing to her age, the old bird gets a little more special attention. Animal keeper Sandie Munck says she is treated to small baths as she can no longer get into the water, as well as "all the fish she can eat".