News
National Round-Up: Outrage over Danish stores burning new clothes
---
This article is more than 3 years old.
Elsewhere, eggs: scrambled and frozen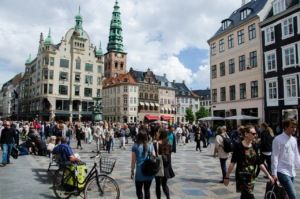 A report prepared for Danish Consumer Council's Tænk initiative has revealed that almost 700 tonnes of brand new clothes are incinerated every year.
This is over three times the amount previously reported by large clothing retailers themselves.
Up in flames
In a written statement Jacob Lamm Zeuthen, the head of environmental policy for the Danish chamber of commerce says there are several reasons why shops behave in this way.
The garments may have been stained with illegal pigments, or the wrong materials may have been used.
Another explanation is tax rules, which impose VAT on stores if they give them away, but not if they throw them out.
85 companies contacted
The council has contacted 85 companies representing 115 clothing brands to ask if they would agree to not to destroy perfectly usable clothing.
Of these, 50 companies have signed, including Salling Group, Coop, H & M and Boozt.
Instead of throwing the clothes out, companies will recycle them or offer the to charity shops.
---
Still in date
A press release yesterday declared that parliamentary parties agreed to lift the five-year limit on freezing eggs for use in fertility treatment or in cases of illness. In future, a woman's eggs will be able to be stored frozen until the woman reaches the age of 46. This age cut-off corresponds to the limit for receiving fertility treatment in Denmark.
The kids are alright …
GoCook, a cookery project set up by Coop with the goal of bringing about the first generation of children with better cooking skills than their parents, has reached new heights. Over the past 13 years, around 150,000 kids have benefited from the program, but now 170,000 have signed up this year alone. Project manager Bente Svane Nielsen believes coronavirus is to blame: making people think more carefully about where their food is from, and increasingly choosing to buy local.
Lights on, please
As we move towards the darker end of the year, a new campaign has been launched to remind motorists to switch their lights on when driving in dark, rainy, hazy or foggy weather. It is an initiative set up by the Ministry of Transport, the Danish Transport Authority, and the Council for Safe Traffic. A survey by Epinion in March found that, of 1,757 drivers asked, 74 percent reported seeing cars travelling without their lights on in the dark or when visibility was impaired.
Winter has come
According to Vejdirektorat, winter is officially here. Just after 2am on Friday morning the first salt-truck of the season was sent out to keep roads safe – its first destination: the Swing Bridge over the Næstved Canal. In an average winter, Vejdirektorat get through 58,700 tonnes of salt.