News
Denmark is the most affordable country in Europe for Lego sets
---
This article is more than 3 years old.
Indeed, the Danes also rank second in the world with an average price for a Lego set ticking in at 101.04 US dollars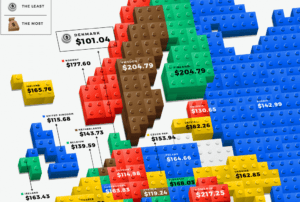 Denmark probably isn't the first country that springs to mind when it comes to affordable products. 
But according to a new report from The Toy Zone, the country is the most affordable in Europe when it comes to Lego sets.
With an average set price of 101.04 US dollars, the Danes rank second in the world behind only Mexico (99.96).
"Denmark is the birthplace of Lego, but living costs in Denmark are high compared to the rest of the world (and yes, Lego is a living cost!). The Boost Creative Toolbox, for example, is more expensive in Denmark than in most of the Eurozone," The Toy Zone wrote.
"However, certain special editions can be found very cheaply in Denmark. For example, the Pirates of Barracuda Bay set costs as little as $33.86. This brings the overall average down to just over $100 across the sets in our study."
READ ALSO: Lego collectors willing to pay 14,000 kroner for controversial set
Es muy caro!
Meanwhile, Ecuador is the country with the highest average cost for a Lego set at a whopping 672.00 US dollars – sets are more expensive in South America than other continents … by far.
Other notables include the US (187.37), Canada (171.74), Brazil (389.56), Norway (177.60), Sweden (204.79), Germany (114.98), the UK (115:68), Russia (142.99), India (184.18) and Australia (129.20).