News
Local Round-Up: Key bridge closed for repairs, travellers warned
---
This article is more than 3 years old.
Water and ice continue to shape Copenhagen's news, whilst the airport also gets a mention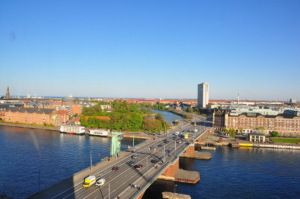 For the thousands of people who make use of Langebro as they cross Copenhagen harbour, they can expect to plan for a longer journey.
On a typical weekday, 50,600 vehicles cross the bridge, but now all will need to find alternative routes.
Only one lane
The emergency repair work that shut all but one lane of the bridge last weekend will continue again from October 24.
From 06:00 on Saturday October 24 until 04:00 on Monday the 26th, the bridge will be closed to all traffic. Repairs are being done to the concrete after years of water damage and heavy use.
---
Den Blå Planet struggles to keep head above water
With roughly 200,000 fewer guests than last year, Den Blå Planet in Kastrup is at risk of being forced to close at the turn of the year, its CEO, Jon Diderichsen, tells TV2. Already the aquarium has been forced to make cuts to its staff team, but it is the enormous electrical costs involved in keeping an aquarium operational that are really doing the damage. It is northern Europe's largest aquarium, and one of Denmark's most popular attractions, but the reduction in visitors as a result of the coronavirus has hit it hard.
Drunken cyclists causing mayhem
Of all the alcohol-related accidents on Copenhagen's streets, half of them are caused by drunk cyclists. In 2019 alone, 20 wobbly bicyclists were involved in drunken accidents causing personal injury in the capital, meaning the city accounts for almost half of all such incidents (42) nationwide. These statistics only include incidents in which the police have been involved, suggesting the number of drunken pedallers is likely much higher.
Rink reopens
Popular ice rink Broens Skøjtebane is set to open again on November 6, promising lots of slips and slides as well as the usual skating. Found at the end of the Inner Harbour Bridge at Den Grønlandske Handels Pladsvar, the rink is free for all to use, and those without their own skates can hire them onsite. Over the winter, a huge program of events is planned, though with special care to adhere to coronavirus guidelines. Among other things, events include community singing, a kid's disco and retro curling.
EU backs green airport development
Copenhagen Airport has been awarded 90 million kroner by the EU as part of a project aimed at developing a more environmentally-friendly airport infrastructure, which can then be adopted at other sites. Part of the project includes exploring ways in which airports can accommodate planes running on alternative fuels, as well as the use of sustainable sources of electricity in the building itself. Plans had already been underway to complete the work, but the funding is a welcome financial addition that also brings increased responsibilities to the construction.