News
Sports Round-Up: Denmark's road to Qatar looks smoother thanks to top seeding boost
---
This article is more than 3 years old.
A good week for Danish racketeers, and an even better year for professional gamers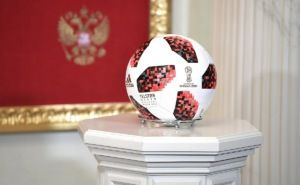 FIFA has confirmed the draw for the European qualification rounds of football's biggest tournament will be revealed on December 7 when 55 nations are pulled out of the hat.
This time around, the World Cup qualifiers will take a more compressed schedule, with all games being played between March and November 2021.
Very likely to be a top seed
Denmark will be hopeful of success. Ranked eighth on the continent currently, the Red and Whites will be eager to ensure they maintain their place, as the ten highest ranked teams will be a top seed in the draw, which will pick five groups of five and five groups of six.
Only November's internationals against Sweden, Iceland and Belgium can now influence their position in the standings. However, according to analysts, Denmark are 98.5 percent likely to be a top seed.
---
Wolves to the slaughter
FC Midtjylland's 4-0 defeat to Atalanta on Wednesday evening marked the worst ever Champions League debut by a Danish team. The Wolves were undone by three first-half goals from Duván Zapata, Alejandro Gómez and Luis Muriel, before a final goal from Aleksey Miranchuk in the closing minutes drove the result home. FCM captain Erik Sviatchenko is hopeful that the team will find some form in the remaining group games: "We have to look positive, otherwise we can just get ourselves down and not look to the next matches. We must look forward to this campaign."
Unbeaten run continues for Denmark's women
A 4-0 home victory against Israel on Wednesday meant that Lars Søndergaard's squad maintained its maximum points haul in the Euro qualifiers. With eight games played and won, the team have an impressive +45 goal difference, having not conceded a single goal so far. Pernille Harder landed a brace, with a header from Sofie Junge and an own-goal from Irena Kuznezov completing the scoring.
End of the road for Magnussen
After six years in Formula 1, it looks like Kevin Magnussen's time in the top tier has come to an end, or at least with his current team. TV2 Sport reports that his time with Haas is at an end, with Magnussen expected to leave at the end of the season. After that, it is predicted he will struggle to find a new F1 ride, as he does not have the financial backing that many teams demand. But his options are not entirely exhausted, with a future in IndyCar or even Nascar perhaps beckoning …
No new spectators on the horizon
On Wednesday, the minister of culture, Joy Mogensen, fielded questions in Parliament about Danish sport. Among her answers was the claim that it is not medically viable to allow more than 500 spectators into Denmark's football stadiums. The Divisionsforening has emphasised that 46 matches have been held under the current scheme, without any spread of infection being found in connection with them. The health authorities, however, remain cautious.
Rune runs wild
Just 17 years old, Holger Rune is already starting to cause quite a stir in the tennis world, and now the Dane has received a wildcard for the ATP Challenger tournament in Marbella, which begins tomorrow. The tournament's main sponsor, AnyTech365, is led by a Danish executive, and he had no doubt that Rune deserved a place. For their part, the ATP organisation was fully behind seeing the winner of the junior French Open in action.
Mayor leaves more gaps to fill
Following his resignation as Copenhagen's mayor on Monday as a result of a host of sexual assault allegations, Frank Jensen is also leaving his post as chair of the company behind Denmark's Tour de France opener in 2022. The new mayor, when appointed, will take on the role. The first three stages of the Tour de France are scheduled to take place in Denmark from 1 to 3 July 2022.
Dane gets attacking debut in NFL
Hjalte Froholdt made history on Sunday as the first ever Dane to participate in an attacking play in the NFL when he was substituted on for the New England Patriots in their game against the Denver Broncos. It was a good weekend all round for the American footballer, as he had announced his engagement on Saturday. Unfortunately, however, the Patriots went on to lose the game 18-12.
Antonsen triumphs in Denmark Open
Players from all over the world flooded to Odense for this year's Denmark Open, but the two finalists did not have to travel far. Both from Aarhus, Anders Antonsen and Rasmus Gemke battled it out on Sunday night for the title, with Antonsen eventually coming away victorious, winning 21-18, 19-21, 12-21. It is the biggest title of his career to date.
Considering a career change?
Competitive gaming has had a meteoric rise in recent years, and so have the finances behind it. Nowhere is this better exemplified than by the career of Danish gamer Johan Sundstein, who is better known by his gamer-ID 'N0tail'. The professional Dota 2 player, who is the grandson of a former Faroese prime minister, made close to 20 million kroner in 2019 – the equivalent of over 54,000 kroner a day.