News
Belarus opposition leader visits Denmark for the first time
---
This article is more than 3 years old.
In Copenhagen to scoop up her Politikens Frihedspris award, Svetlana Tikhanovskaya will also meet with foreign minister Jeppe Kofod today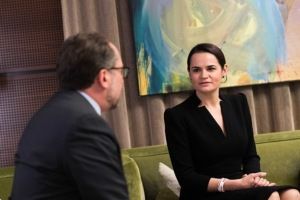 Belarus opposition leader Svetlana Tikhanovskaya is in Denmark for this first time this week and will meet the foreign minister, Jeppe Kofod, in Copenhagen today as part of her visit.
Tikhanovskaya will also sit down with a number of Danish civil society organisations to discuss the ongoing situation in Belarus.
"For over 70 days, the population of Belarus has taken to the streets to demonstrate against [Aleksandr] Lukashenko, who has clung to power by means of election fraud, police violence and the imprisonment of opposition members," said Kofod.
"Svetlana Tikhanovskaya is the leading figure of the Belarusian opposition. I look very much forward to speaking to her about how she sees the Belarusian population having their voices heard."
Denmark has led the EU charge against Luksashenko in the wake of the controversial election in Belarus in August.
READ ALSO: Denmark blasts Belarus for kidnapping opposition leader
Eyes on the prize
Part of Tikhanovskaya's visit to Copenhagen also pertains to her being awarded the prestigious Politikens Frihedspris award.
The award, which comes with prize money amounting to 100,000 kroner, is awarded to individuals or institutions that defend freedom rights in particularly risky conditions.
Previous winners of the award include Madawi al-Rasheed, Mona Eltahawy, Abdulhadi Al-Khawaja, Garri Kasparov and another Lukashenko critic from Belarus, Ales Bialiatski.