News
Party wants to offer Polish women free abortions in Denmark
---
This article is more than 3 years old.
Enhedslisten's statement comes in the wake of Poland's government looking to crack down on abortion this week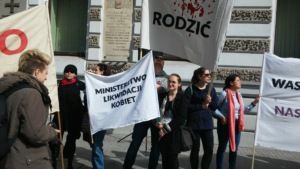 Tens of thousands of Poles took to the streets this week to protest against their government's plans to usher in a more stringent abortion law.
Now, Polish women have received some political backing from across the Baltic Sea, with Enhedslisten proposing that they should be able to get an abortion for free in Denmark.
"It's a basic right for women, who are now being stripped of them in Poland. And we can't just sit idly by while one of our neighbours – an EU member no less – removes such a right," Peder Hvelplund, Enhedslisten's spokesperson for health issues, wrote on Facebook.
READ ALSO: Confusion over abortion tourism: why are so many Danes heading overseas?
Derailed by Duda
Hvelplund said that Polish women already travel to other countries, such as Germany and Austria, to get abortions.
The MP intends to bring the proposal before the health minister, Magnus Huenicke.
A constitutional court in Poland recently ruled that the abortion of a foetus with deformations is unconstitutional. 
When the country's new amendments kick in, abortions will only be permitted if the pregnancy is the result of a rape or incest, or if it poses a danger to the life or health of the mother.
During Andrzej Duda's tenure as president, the Polish government has taken many steps to limit abortion in the country.