News
Government unveils new COVID-19 warning system
---
This article is more than 3 years old.
Denmark set to risk level 3 out of a possible five, according to Health Ministry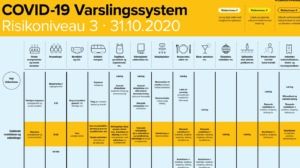 The long-awaited coronavirus warning system has just been revealed by the government at a press conference moments ago.
The new five-level system is designed to make the ongoing crisis more transparent for the public and business sector.
Denmark is currently at risk level 3 – which means there is widespread infection in society, with the potential for rapid acceleration in infections numbers.
READ ALSO: Copenhagen leads in coronavirus antibody rates
1,126 cases in past day
Every individual risk level includes various tools and initiatives that can be implemented in case of a risk level change. 
The risk level will be set once per week at coronasmitte.dk and you can check out the system more closely here (in Danish).
The latest Health Ministry figures revealed that 1,126 people tested positive for COVID-19 in the space of 24 hours.