News
Biden: their time? Say it's so Joe! There's only so many years we can take
---
This article is more than 3 years old.
Stamina deficiency: across the age spectrum, their patience with the Trump presidency is wearing thin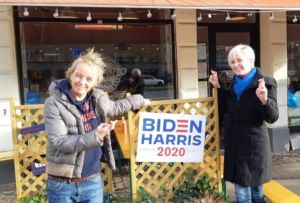 It's early morning at The Midwestern Diner in central Copenhagen but breakfast is already under way. Americans and Danes alike fill the seats, with the smell of bacon sizzling and fresh coffee in the air, but not everybody is smiling.  
It's a sizzler alright
Yesterday, the US took to the polls for the presidential election in a race between Donald Trump and Joe Biden. The final result, however, still hangs in the balance. The huge number of mail-in ballots and the impact of the coronavirus has ensured that this will be an election like no other, and it is expected that it may take days, if not weeks, to be sure of the final tally. 
"We're cautiously optimistic," says Sam, the owner at The Midwestern. The diner is hosting an election breakfast special, with results pouring in live, and customers are hopeful that things are "on the right track".  
Nervous about future
The results of this election will undoubtedly have a profound impact not just on the US, but on the tone of world politics. For Americans living in Denmark, the past four years of the Trump administration has been described as a surreal experience for people of all ages. 
We've spoken with a number of Americans on what it's been like to experience the dramatic changes underway in US politics while living in Denmark. Across the board, there's a sense of nervousness for the future.
---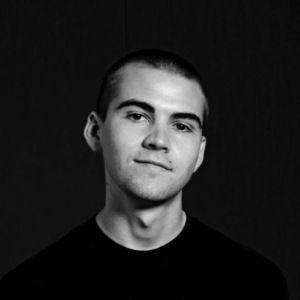 AARON HATHAWAY
Born in the 1990s
Home state: Minnesota
I feel bitter and exhausted. I am everyone's 'American friend' here, which means everyone keeps asking me which way the election's gonna go, as if I fuckin' know something they don't. Like Americans all get some secret newsletter or something. I am so much more scared for the coming months than I am the outcome of this miserable election. 
American political and social infrastructure has failed so many millions at every corner, and there is so much inertia in our massive, cruel engine that it will be months before that pain eases. This winter will be so dark and hard for so many, regardless of who is in power. I don't know when I'll be able to hug my mom again. It's hard to be hopeful without feeling like a fool.
Aaron has been living in Copenhagen for three years, and works as a reporter and copywriter.
---

Erika DEL CID
Born in the 1990s

Home state: Virginia
The vote's still undecided – but as it stands now I'm deeply disappointed. It feels like we didn't learn our lesson from the last election. I may not identify strongly as a democrat voter, I've supported different progressive candidates over the years, but the presidential election is where it really counts and the idea of another Trump term feels like we've given up on changing or doing better.  
I've been in Denmark for five years and plan to stay. The voting system here is simply much more proportional that the one in the US, and I'd like to see an America that truly represents its voters. Not just that, but an America with limits on political fundraising and donations, especially from 'special interest' groups. One way or the other living in Denmark only drives home how much democracy in the USA needs an update.
Erika is a Copenhagen resident with a background in international relations and migration.
---

RAY WEAVER
Born in the 1950s

Home state: Maryland
Even as the ugly trend toward nationalism and right-wing ideology grows around the world, the boorish, moronic clown that I call 'Dear Leader' has become the ultimate symbol of the 'ugly American'.
I can rarely go anywhere without someone – the moment they find out I am an American – asking: "What the fuck is up with this Trump, man? Are you guys serious?"
I still have no real answer to that question.
Along with being embarrassed in the pub, Dear Leader's effect on my life was personal and life threatening.
Early last March, just as the coronavirus was really taking hold in Europe, I was scheduled to do a tour in the US. I made some calls to the promoters before I headed over to see if they thought it was safe: "Just a few cases. Mostly on the West coast. It'll be gone in a week."
That was the message they were hearing from the president of the United States. I thought: "Even he wouldn't lie about a deadly virus, would he?" My bad.
I landed on March 10. By March 14, my entire tour was shut down and I was struggling to get back to Denmark. I spent hours in airports in DC and New York City before I could get on a packed plane to Copenhagen. 
Somewhere during that long, toxic journey, I got the fucking virus. And I nearly died. 
I was bedridden from mid-March to mid-April and still suffer serious lingering health issues.
People ask if I wouldn't have travelled anyway had he been honest. I doubt it, because the promoters and venues were taking their cues from the president.
And he lied.
Ray has lived in Denmark since the 1990s. He is a journalist and singer-songwriter who is an occasional contributor to the Copenhagen Post.
---

Ian Bearden
Born in the 1960s

Home state: Arkansas
When George W Bush came to power, many Danish people asked me: "How could this happen?" so you could say that I'd had a lot of practice in saying: "Well, crazy things happen" by the time Trump got elected! But overall, I've been very happy to be insulated from all the craziness of this particular administration living in Denmark.
Everything about this man is a sideshow and sometimes it gets too surreal – for example, when the guy was talking about buying Greenland – and somewhat embarrassing. I mean, how can you not have a better idea of what's going on in the world. You shake your head; it's difficult to believe. It's hard to argue he's made any substantial changes for good in the US, or at least for those who earn less than 300,000 dollars a year. 
On the world stage, he's a bully. But as soon as somebody pushes back, he runs away and hides. He's such an untrustworthy leader. The US used to be a bedrock, both with NATO and in the Pacific. We could be counted on, even our 'enemies' knew the US would stick to its guns. Now, though, the unsteady hand at the tiller (and the decimation of the State Department) leads to instability.  And don't even get me started on Trump's continual flirtation with dictators!
Worst of all has been Trump's long-term effect on climate. When he says humans have had nothing to do with climate change, people really listen and figure he knows something they don't. Because of this, it's been business as usual for large energy companies and it's really slowed down environmental efforts. From "windmills causing cancer" to "clean coal", he has been abysmal on climate issues.
Ian, who has been living in Denmark since 1993, specialises in Experimental Particle Physics at the Niels Bohr Institute
---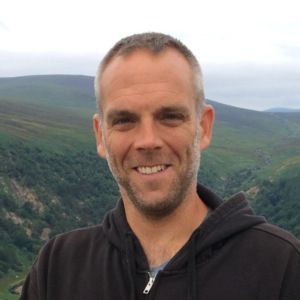 JUSTIN CREMER
Born in the 1970s
Home state: Iowa
In the weeks following Donald Trump's 2016 election victory, as American progressives and celebrities made loud but empty threats to leave the country, I was making quiet but very real plans to move back to the United States after nearly seven years away. 
Less than two months after Trump was inaugurated, my family and I moved to Upstate New York for a two-year stay. Even though we knew we'd come back to Denmark, I had mixed feelings about returning to the US. Not only had my ties faded as my connection to Denmark grew stronger, I also knew that the US I was returning to was going to be very different than the one I left in 2010.
I've never been overly naïve about the United States and fully recognise that we Americans have a complicated and often very ugly history. But returning home to spend two years in Trump's America truly drove home the sense that that ugliness is not confined to the past. 
Trump's openly hateful behavior, childish insults, sustained attack on the truth, assaults on the free press and barely-veiled racism have given large swaths of the American populace permission to unleash and embrace their ugly sides. Trump did not cause the divisions in American society but he has expertly exploited them and made them worse. Americans are now more split than at any point in my lifetime.
When we returned back to Denmark at the outset of 2019, it was with a sense of both relief and guilt. It felt somehow wrong to escape as American democracy was being slowly eaten from within. But truly, what can I do about it? This sense of helplessness has continued since my return. Because of the time difference, nearly every day starts off with me scanning the notifications that came in overnight – a truly unhealthy habit that has resulted in far too many days starting off on the wrong foot.  
The arrival of the COVID-19 pandemic and Trump's constant dismissal and downplaying of the virus should have laid bare his failures for all to see, but it's clear that there is a significant section of Americans for whom he has become a cult leader, a Messiah of sorts. It's frightening and depressing that Trump still has enough support to make the election close. Even though we knew that Election Night most likely would not end with a definitive result, the thought of having to deal with Trump for another four years is almost too much to bear. But despite his best efforts, the US is still a democracy. All of the votes will be counted and when all is said and done, I believe he'll lose. If not, Denmark has never looked better.  
Justin has lived in Denmark off and on since 2010. He is a former editor of The Copenhagen Post and The Local Denmark.
---

Taylor Kirchmyer
Born in the 1980s

Home state: Arizona
Did you dream about a big life, something more than staying in your hometown? When I moved from Phoenix to Tucson to finish my degree, that 'bigger' city life sustained me for a while – but after a few years I knew it was time to move on. 
I had a dream to live in Paris!! It may be a typical American young girl's dream, but with research and determination, I found a way to make it happen for a year.
Then, an opportunity presented itself in Denmark; eager to leave my chambre de bonne dans le quinzième, I took it and began a new adventure. 
Living and working in Denmark is a dream I never knew I had. It is one of the most dynamic cities I have ever been to; you can be minutes away from beach, city or forest depending on your mood (and the weather) – and did I mention, a million delectably different combinations of smørrebrød?!
Denmark's work culture leaves me amazed. Aside from the fact that I adore my job and my confident, clever colleagues, I respect that the foundation of this work culture (and this country) is based on trust. 
Living here during corona times has been eye opening by comparison to my home country. When the prime minister makes an announcement, every Dane and foreigner in DK will tune in to hear what she has to say. Politics aside, there is underlying trust in the Danish government that every measure taken is in the best interest of the people. 
It's seems to be the exact opposite in the USA where wearing (or not wearing) masks has become more of a political statement than a preventative measure, and telling lies has become the new normal. In my opinion, without trust, how can we achieve unity to overcome this pandemic?
Though it is uncertain where my future will take me, I am proud to be an honorary Dane during this moment in history where trust, community, kindness and respect are pivotal.  
Taylor has lived in Denmark since August 2019. She is a Jr Relocation Consultant with Copenhagen Relocations.