News
Bird flu discovered in Denmark
---
This article is more than 3 years old.
The first case of the serious H5N5 bird flu has been found in a dead peregrine falcon near Sakskøbing on Lolland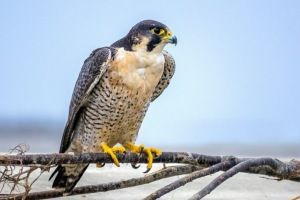 According to lab results from Statens Serum Institut, the first case of the serious H5N5 bird flu has been discovered in Denmark.
A peregrine falcon found dead near Sakskøbing on Lolland has tested positive for the bird flu.
"The discovery is not a surprise. In recent weeks, we have received reports from north Germany regarding bird flu in wild birds," said Birgit Hendriksen, a Veterinary and Food Administration spokesperson.
READ ALSO: New Danish strain of coronavirus could derail worldwide vaccine efforts, fear experts
Cases around Europe
Hendriksen went on to underscore that it was critical that all owners of birds and poultry take the situation seriously and ensure that their fowl are covered in enclosures to avoid contact with wild birds.
Cases of H5N8 – another subtype of bird flu – have been reported in Germany, the Netherlands and the UK.
Currently, no reports have surfaced regarding transmission to humans in Europe, but it is very serious for birds.
The news come in the wake of the news that at least 12 people have been infected by a new variant of the coronavirus in Denmark originating from mink, which has been called 'Cluster 5'.