News
Goodbye South Africa's rose: Zindzi Mandela much missed and mourned
---
This article is more than 3 years old.
Madiba's youngest child did him proud as an ambassador, activist, campaigner and, for two years during his presidency, his stand-in first lady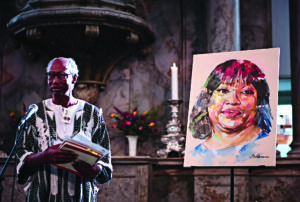 Zindzi Mandela, the daughter of South African anti-apartheid leaders Nelson Mandela and Winnie Madikizela-Mandela and a diplomat who served as ambassador to Denmark until the beginning of this year, has died at the age of 59.
The South African government made the announcement on July 13, and the South African Embassy in Copenhagen confirmed that she passed away in the early hours of that morning at a hospital in Johannesburg .
  Although it is believed that she tested positive for COVID-19 in the hours leading up to her death, it remains uncertain whether it was the cause of her death.
Four days later she was laid to rest next to her mother at the Fourways Memorial Park, just one day before what would have been the 102nd birthday of her father.
Respects in August
Mandela took her position as ambassador to Denmark in 2015, and upon her death the embassy commented: "The Danish community will remember her as a people's diplomat, grounded and never too busy to listen, collaborate and network with the man on the street as much as she did with the diplomatic community at large."
Many members of the Copenhagen diplomatic corps gathered to pay their respects at two memorial services.
Organised by Crossing Borders and the South African Embassy on August 4, a service was held at Christian's Church on Strandgade, after which many signed the book of condolences. 
And again in September
And on September 15, a tree was planted in the garden of the South African Embassy. 
Among the speakers was her elder sister, Zenani Mandela-Dlamini, the South African ambassador to South Korea, who is also a princess through her marriage to Prince Thumbumuzi Dlamini, a sibling of the current king of Swaziland, Mswati III. 
Zenani and Zindzi were the only children of Nelson and Winnie, but had four half siblings through their father's first marriage. Zindzi herself had four children and even more grand-children. 
One of them, Zenani, 13, who Zindzi named after her sister, was tragically killed in a road accident shortly before the opener of the 2010 World Cup, causing her great-grandfather to miss the game. 
Political activist
Zindzi, who was aged just 18 months when her father was imprisoned for what would be a 27-year stretch in prison, was a political and social activist who spent many years in South Africa's freedom struggle.
She is known for delivering an iconic speech on behalf of her then imprisoned father in 1985 rejecting a government offer to have him released if he denounced violence perpetrated by his anti-apartheid movement, the African National Congress.
She also had the honour of fulfilling the duties of 'First Lady' of her nation – in between her parents' divorce in 1996 and her father's remarriage two years later.
'Heroine in her own right'
Zindzi Mandela founded the Mandela Legacy Foundation – which aims to improve education, employment, women's rights and equality in her country – and she led the Zenani Campaign, a hugely successful road safety campaign in honour of her dead grandchild. 
She was also the author of the book 'Black As I Am', a collection of her poems published in 1978.
"Zindzi will not only be remembered as a daughter of our struggle heroes, Tata Nelson and Mama Winnie Mandela but as a heroine in her own right. She served South Africa well," said South Africa's foreign minister, Naledi Pandor.
'Strong friendship'
As ambassador to Denmark, Mandela supported events promoting women's rights as well as Copenhagen Pride, saying she backed ending discrimination on the grounds of sexual orientation.
Denmark's ambassador to South Africa, Tobias Elling Rehfeld, mourned her passing.
"Zindzi was a dear colleague working tirelessly and with a smile to nurture and grow the strong friendship between #SouthAfrica and #Denmark. My deep condolence to the Mandela family," he tweeted.
At the time of her death she was the ambassador-designate of Liberia.