News
International Round-Up: Danish firm accused of breaking EU sanctions
---
This article is more than 3 years old.
Dan-Bunkering could face prosecution after it was found to have sold 172,000 tons of jet-fuel to Russia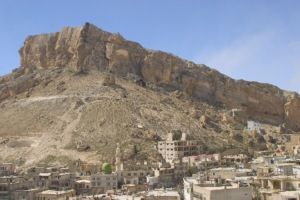 Danish company Dan-Bunkering is under investigation after it emerged that 647 million kroner's worth of jet-fuel was illegally sold to Russia – which passed it on to Syrian forces.
The business deal breaks EU sanctions that forbid the sale of jet-fuel to Syria. The sanctions were brought into place between 2015 and 2017 in order to protect the country's civilian population.
Very serious
"It is our view that these deals with Russian partners violated EU-sanctions. The case is being taken very seriously," explained Per Fiig, the state prosecutor for SØIK (Serious Economic and International Crime).
If prosecuted, the directors behind the dealings at Dan-Bunkering may expect to face up to four years in prison.
---
Finnish man caught attempting to smuggle 20 kilos of amphetamines
A 27-year-old man with Finnish citizenship was remanded in custody by the court in Sønderborg this week, after attempting to smuggle 20 kilos of amphetamines into the country. The man was stopped at the Frøslev border crossing between Germany and Denmark, where police found the drugs hidden inside his car. He has admitted to the attempted drug smuggling, but has otherwise refused to comment.
Novo Nordisk giving aid to East Africa in COVID-19 fallout
The Novo Nordisk Fund has given 5 million kroner towards efforts to help critically-ill patients in Tanzania who have been somewhat forgotten due to the impact of coronavirus. With the virus spreading its way across east Africa, there are fears over how the healthcare infrastructure will cope with the increasing numbers of patients. But for some, there is an even greater worry over the patients who might be forgotten. "When COVID-19 hit Tanzania's largest city, Dar Es Salaam, panic spread among chronically-ill patients – because what would they do if they suddenly found they couldn't go to the local clinic or hospital for treatment and medicine?" said Bent Lautrup-Nielsen from the World Diabetes Foundation. With the new funding, Novo Nordisk has been able to support Tanzania's Diabetes Association to ensure that 120,000 chronically-ill patents can continue their treatment, with new equipment and capacity reinforced across the country.
DFDS see passengers drop by as much as three quarters
Ferry operator DFDS has seen a huge fall in passengers as a result of new travel restrictions across the world. Despite the efforts of free travel-by-ferry deals in the government's July support package, ferry operators saw restrictions tighten once again in August after it became apparent that the coronavirus was not yet under control. For DFDS, this has meant a loss in turnover in July, August and September of up to a fifth of what the company usually sees. By October, there were 84 percent fewer passengers aboard its ferries. The company has made the decision to cut 650 jobs – approximately 200 of which were located in Denmark.
Filipino ambassador grateful for Danish typhoon sympathies
Philippines ambassador Leo M Herrera-Lim has thanked Denmark for its response to the devastating typhoon that visited his country in early November. Typhoon Goni (which was known as Rolly locally) reached speeds of 265 km/h and killed 17 people as it caused heavy rainfall, flooding and landslides. "I am deeply saddened by the loss of lives and the widespread destruction of property," said Herrera-Lim. "I thank the people of Denmark for their messages of sympathy and solidarity with Filipinos. I believe in the resiliency of the Filipinos and their inner strength to rise from yet another challenge."