News
Copenhagen's answer to Willy Wonka launches golden ticket promotion
---
This article is more than 3 years old.
One loaf becomes 50: British baker Richart Hart presents his own take on 'The Feeding of the 5,000'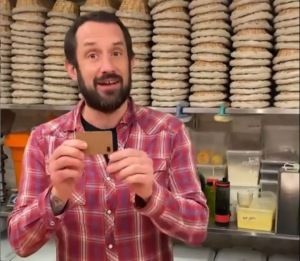 Violet Beauregarde, Augustus Gloop, Veruca Salt, Mike Teavee and Charlie Bucket, anyone? Where exactly in the rulebook did it say the finders of the Golden Tickets had to be precocious brats?
Well, Richart Hart, the British founder of Hart Bageri, set out to put that right yesterday. He hid five golden tickets inside the loaves of bread on sale at his new outlet at Strandgade 108 in Christianshavn – it's on the right after you pass over Inderhavnsbroen from Nyhavn. 
Copenhagen's answer to Willy Wonka awarded the lucky five finders with a free loaf once a week for an entire year. So, if you didn't end up finishing your Hart loaf yesterday, for god's sake: don't make it into breadcrumbs!
Truly a blockbuster
The Dahlish dough promotion was held to celebrate the opening of another Hart Bageri outlet in Copenhagen following a barnstorming couple of years for the first. 
Located on Gammel Kongevej in Frederiksberg, customers queue around the block every day to get their hands on their pastries.
Hart Brød + Bar opened for business yesterday at the former location of Restaurant 108, which like Hart Bageri lists Noma head chef Rene Redzepi as a mentor and shareholder. 
READ MORE: This summer's blockbusters: Copenhageners can't get enough of queuing for their favourite goodies
Cheeses, charcuterie, cocktails
Open from 08:00 until 22:00 seven days a week, the location offers pastries in the morning and drinks and snacks in the afternoon and evening.
 "We'll be offering a variety of cheeses and charcuterie, served with our classic city loaf bread," promises Hart Bageri. 
"Add a cocktail or glass of wine, and it's the perfect way to end your day. We are so excited to be in the neighbourhood and look forward to seeing you soon!"