News
Science Round-Up: Birds under the microscope in Copenhagen
---
This article is more than 3 years old.
Universities across Denmark make positive developments this week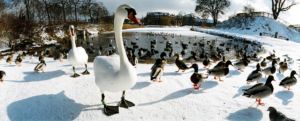 In a huge study – the so-called B10k project – researchers are mapping the genetic material of all the world's 10,500 bird species.
The University of Copenhagen, in collaboration with a number of international institutions, has so far mapped 363 genomes from 92.4 percent of all bird families.
Uniformity and change 
A recent study from B10k examines the genetic similarities and differences between birds across space and time. One surprise has been the incredible uniformity of birds' DNA throughout evolution.
Change has taken place, however. For example, songbirds have lost the cornulin gene controlling the elasticity of the oesophagus, thereby improving their singing voice.
---
Cause of asthma in caesarean section children discovered 
For the first time, researchers from Dansk BørneAstma Center and the University of Copenhagen have identified an early disturbance in the intestinal flora that comes with the onset of asthma in children born by caesarean section. It has long been know that such children were more susceptible to suffering from asthma,  but now there are hopes that this new knowledge might mean its prevention through the use of probiotics.
Aarhus welcomes new sci-fi style research centre
Aarhus University's new IbrAIn centre may sound like a forgotten noughties Will Smith film, but researchers are hopeful it will aid the development of new technology for the treatment and diagnosis of diseases of the brain. The centre brings together ongoing research into the brain and new, brain-orientated AI technology.
New support for intensive care patients 
A new research project, led by Professor Pia Dreyer of the Department of Public Health, is looking to investigate and support the cognitive rehabilitation of intensive care patients during and after their treatment. The Novo Nordisk Foundation has granted the project 7.5 million kroner.
Scientists discover enormous 'fossil lake bed' in Greenland
In the first discovery of its kind, the remains of a huge, ancient lake have been discovered in northwestern Greenland. The lake is believed to be up to 30 million years old, with indications of previously unknown fossils and chemical traces set to be discovered. As the climate changes, such new information may be crucial.
DTU scoops up award
The implementation of a campus plan supporting a strong teaching environment – attracting researchers, lecturers and students from across the globe – has seen DTU awarded the Client Award 2020. The award, part of the Builders' Awards, honours a client who in one or more projects has shown a very good and professional effort worthy of follow-up.
Mosques in Denmark promote citizenship of Muslim women, report finds
A new study by the University of Copenhagen has outlined the way in which voluntary work and social activities run by Denmark's mosques promote active citizenship among Muslim women. The findings support the conclusions of a number of similar studies across the world.