News
Business Round-Up: Danske Bank chair attempted to cover up debt-collection scandal
---
This article is more than 3 years old.
Elsewhere, Danes' savings hit new heights and big polluters respond to green tax proposal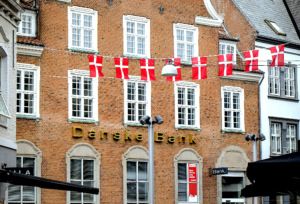 Berlingske and TV2 have come into possession of an internal email sent on November 25 last year that reveals the role of Karsten Dybvad, the chair of the board at Danske Bank, in dismissing the debt-collection scandal that has engulfed the bank this year.
According to the email, the chair underlined the importance of describing the debt collection case in only general terms.
'Operational risk-related losses' was the term concocted behind which illegal debt collection hid in the bank's annual report – a phrase suggested by Jacob Aarup-Andersen, the then CFO.
Hiding from the public
Two months after the annual report was released, a communications plan – also seen by Berlingske and TV2 – was written up outlining how they would "avoid the risk of 'normal' customers hearing about the case".
In a written response to TV2, Dybvad has denied that the email was an expression of his desire to obscure the details of the debt-collection scandal.
A bad year gets worse
Today Danske Bank announced that a further 257 employees would be fired, with another 261 employees in Denmark agreeing to voluntary redundancies. It is part of the plan to cut 1,600 positions in the next year.
The cuts come along with the closure of most of the bank's remaining cash registers – an acknowledgement on the part of the bank that most customers now prefer to manage their day-to-day transactions online – a trend rapidly accelerated by the coronavirus pandemic.
---
Pricerunner warns of fake Black Friday deals 
According to price comparison service Pricerunner, a number of the largest online stores in Denmark have prepared for Black Friday by raising prices. Since they began their analysis on September 11, 70 percent of the 50 stores they surveyed have raised prices. By law, an item must have had the same price for six weeks before stores describe it as the 'normal' price.
Consumer ombudsman issues warning to debt collectors
In response to Danske Bank's illegal debt collection cases, Forbrugerombudsmanden has reminded debt collection and law firms that they must check that the debt they have been brought in to collect is not the result of any errors. If they do not adequately ensure that there have not been any accounting mistakes, they too might come in for reprisals.
Businesses repay almost 400 million kroner of coronavirus compensation
More than 1,300 Danish companies have voluntarily paid roughly 400 million kroner of the coronavirus aid package back to the state, despite being entitled to the compensation. Fashion group Bestseller accounted for the largest repayments, totalling 81.2 million kroner, after it became clear in mid-September that the group would avoid making a loss. Matas, Grundfos, Scania and others all also paid back at least 5 million kroner each. The state approved 56,000 applications for support, amounting to 12.6 billion kroner in funds.
Heavy polluter voices discontent over green tax proposal
Aalborg Portland, the cement-production giant and by far Denmark's biggest producer of CO2, has criticised the government's proposed new green tax on emissions. The firm produced over 2 million tonnes of CO2 in 2018 – a level of production that would see it pay 76 million kroner a year, which is a quarter of the company's profits. "We need help to switch to natural gas, but this proposal suggests that regardless of whether we switch to natural gas, we will have an additional cost, and thus we have no incentive," explained managing director Michael Lundgaard Thomsen.
Danes' savings surpass a trillion
For the first time in history, deposits in Danish bank accounts total over 1 trillion kroner. Banks in October held 1,020 billion kroner – an increase of 28.6 billion on September according to figures from Danmarks Nationalbank.  The increase is due mainly to the payment of three weeks' holiday pay, some 32 billion, being paid out after tax.
Jysk sleeping soundly 
Record high sales, largely of duvets and pillows, has led the Danish home goods retailer Jysk to its largest ever profit. The company earned a pre-tax profit of 3.6 billion kroner in its last financial year. Following another wave of openings, Jysk now has just under 3,000 stores worldwide, and it employs roughly 26,500 people.
Life science exports hit new high
The Danish life science sector has been on the rise for many years now, but now its contribution to the Danish economy has hit an exciting new milestone. Global life science exports from Denmark are now greater than the country's total exports of goods and services to Germany. Denmark is a global leader in the sector, with pharmaceutical company Novo Nordisk the biggest of the country's life science figures.
Online shopping boom
Driven by the coronavirus pandemic, shoppers in Denmark are turning online to find their wares in numbers never seen before. The proportion of online shoppers in the country has increased by 5 percentage points from 2019 to 2020 – the highest  increase in the last seven years. Today, 75 percent of people aged 16-89 have shopped online within the past three months.