News
Future energy island has immense green potential
---
This article is more than 3 years old.
North Sea juggernaut will be able to supply sustainable energy to all ships and airplanes in Denmark, according to new report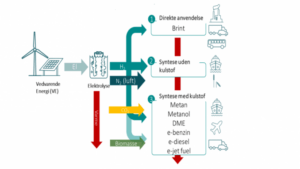 Last month, the government revealed that plans were afoot to establish two huge offshore 'energy islands' off the coast of Bornholm. 
Now, the Energy Ministry has produced a report that conveys that the islands have the potential to supply green energy to all ships and airplanes needing fuel in Denmark.
According to the report (here in Danish), the islands will be able to do so using Power-to-X (PtX) technology – in which electricity production via electrolysis is converted into gases, fuels or chemicals.
"One of the green transition's big challenges is reducing emissions in the transport sector. Using Power-to-X we can use the green electricity to produce fuels for aircraft, ships and trucks," said climate minister, Dan Jørgensen.
"The potential is enormous, particularly with Denmark's considerable offshore wind resources. And it is also why we want to build two of the world's first energy islands and PtX plants with a total capacity that is five times the size of the biggest plant that exists in the world today."
READ ALSO: No stranger to green diplomacy, Denmark's climate ambassador has hit the ground running
Reaching uncharted territory
However, to reach its lofty goals, the government is well aware that PtX technology will need to be further developed and scaled up.
As it stands, energy consumption involving electrolysis remains too high and green hydrogen is not yet competitive compared with fossil fuels. Hence, there is a need to generate more demand and reduce PtX production costs.
But, according to the government at least, Denmark has ample potential to become an international trailblazer when it comes to PtX.
For instance, Danish catalysis giant Haldor Topsøe is currently developing plants in the expectation that electrolysis and other energy technologies will contribute to 30 percent of its revenue by 2024.
Read more about the Danish energy island plans here (in Danish).