News
National Round-Up: Danish pension funds pouring billions into foreign arms manufacturers
---
This article is more than 3 years old.
The manufacturers involved supply weapons to the UAE and to Saudi Arabia – two countries heavily involved in the conflict in Yemen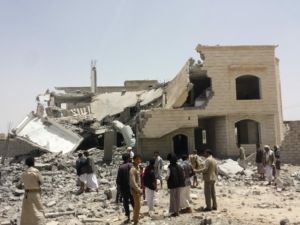 A new report from Oxfam IBIS has revealed that the 15 largest pension funds in Denmark have invested almost three billion kroner in foreign weapon manufacturers supplying Saudi Arabia and the UAE.
This has taken place despite the fact that all weapons exports to the countries from Denmark have been banned since 2018.
A humanitarian disaster 
Since 2015, between 100,000 and 230,000 have died as a result of the war in Yemen between a Saudi Arabian and UAE led coalition and the local Houthi rebel movement.
It is estimated that 80 percent of the country's 28 million inhabitants are now in desperate need of emergency aid. With widespread starvation and a lack of medical resources leading the UN to describe it as the worst humanitarian crisis in the world.
Dirty money 
"What is happening in Yemen is a disaster, and all our pension money is being invested in companies that make money selling gunpowder, bullets and other equipment needed to continue the war," says Kristian Weise, secretary general of Oxfam IBIS.
"It must be stopped because, as it is now, several million Danish pension customers are helping to keep the war in Yemen running, and I think that very few Danes actually want to have their pension remunerated by contributing to war and murder in Yemen," he continued.
---
Mette Frederiksen named one of the world's most powerful 
Forbes magazine has listed Danish prime minister Mette Frederiksen as the world's 18th most powerful woman in politics, and the 75th most powerful woman overall. German chancellor Angela Merkel was named the most powerful woman in politics for the tenth year in a row, with ECB president Christine Lagarde in second and US vice-president-elect Kamala Harris in third.
Use of facemasks extended to March 2021
Yesterday the ministry of transport and housing announced that the use of facemasks on public transport – including taxis, ferries and at stations – would remain a requirement well into next year. Since August 2020 all passengers have been required to wear the protection, with the latest extension keeping them in place until at least 1 March 2021.
One in ten will avoid a coronavirus vaccine
A poll of 1,095 people in Denmark has revealed that ten percent of people in the country will not take the coronavirus vaccine when it is made available next year, with a further ten percent unsure whether or not they will take it. Among the concerns people expressed were worries the vaccine had been developed too quickly, a distrust of the companies behind the vaccines, and an aversion to vaccines in general.
Danish maths scores not adding up
The Timss study tests the level of mathematics and science in fourth graders all across the world, and in the last four years it has shown a significant drop in Denmark's results. Of the 58 countries that take part in the test, Denmark this year placed 24th – a marked slide from its 15th spot in 2016. It is one of only nine countries that has seen a decline in recent years – a fact that has left authorities concerned.
Google reveals Denmark's hottest searches 
A tumultuous year, 2020 has seen many of us spending more time at home in front of a screen than ever before. Now Google has revealed what exactly it is we were all looking at! Coronavirus dominated the searches, with the virus topping the list of trending topics and hand sanitiser coming in as the most searched for in the 'home-made…' category. Meanwhile, Lotte Rod was the most searched for Dane – largely as a result of her role in Denmark's MeToo movement – and Pernille Rosendahl the country's most googled musician.