News
Vivienne McKee wins prestigious Copenhagen acting award
---
This article is more than 3 years old.
English-born creator of the Crazy Christmas Cabaret was awarded the 2020 Teaterflisen for her work on stage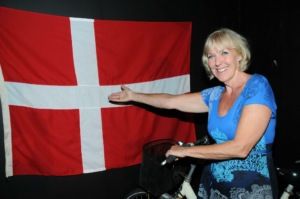 There are likely more than a few Copenhagen residents who are gutted that COVID-19 has robbed us of the Crazy Christmas Cabaret this year.
And having worked tirelessly to put on the show for nearly 40 years, its English-born creator Vivienne McKee is probably more disappointed that most. 
But despite this year's edition being postponed until 2021, McKee may very well still have a smile on her face during these dark winter days. 
Because on December 11, she was awarded the 2020 Teaterflisen for her dedication to the stage. 
The award recognises an actor every year for their particularly significant contribution to theatre.
READ ALSO: Crazy Christmas Cabaret postponed until November 2021
Alongside Mads, Ghita and Sidse
Along with prize winnings of 10,000 kroner, McKee was also given her very own granite tile on Frederiksberg Alle – a bit akin to the Hollywood Walk of Fame
And indeed, the London Toast Theatre founder said afterwards that it was like receiving an Oscar. 
"In London Toast Theatre we are passionate about everything we do and the Teaterflisen is therefore a recognition of my love for theatre," said McKee.
And she finds herself in some fairly formidable company.
Previous winners (see entire list below) include Mads Mikkelsen, Trine Dyrholm, Ghita Nørby, Nikolaj Lie Kaas and  Sidse Babett Knudsen.