News
Congratulations 'new Danes' to be: over 2,500 pass citizenship test
---
This article is more than 3 years old.
Almost 60 percent of the 4,194 people who took the test on November 25 passed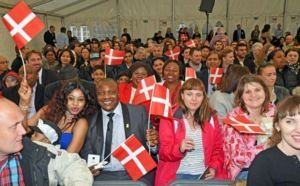 Denmark is set to get some new citizens in the not-too-distant future.
The Immigration Ministry has confirmed that 2,503 people passed the Citizenship Test (Indfødsretsprøven) on November 25.
In total, 4,194 people took the test so the passing rate was at 59.7 percent – down slightly from the 64.9 percent who passed in June.
"Congratulations to the 2,503 test participants, who are one step closer to becoming citizens," said immigration minister, Mattias Tesfaye.
"I'm always pleased when immigrants have grown so fond of our country that they also want to be called Danes."
READ ALSO: Hundreds of Brits getting Danish citizenship
Try the mock test
Tesfaye went on to underline that while the prospective 'new Danes' shouldn't forget their roots, becoming Danish means joining the cultural and social communities in society. 
It also means being loyal to Denmark and the democratic values that are the cornerstone of society, he said.
The Citizenship Test was ushered in by the Venstre-led government back in 2015 – with support from current government party Socialdemokratiet, as well as Dansk Folkeparti, Liberal Alliance and Konservative.
The test, a prerequisite for getting Danish citizenship, documents knowledge to Danish societal conditions, culture and history.
The news comes just days after it emerged that hundreds of Brits are getting Danish citizenship as Brexit looms.
You can try a free mock version of the test here (in Danish, obviously).