News
Culture Round-Up: Hell-Bendt on becoming the next George Best
---
This article is more than 2 years old.
In other news, the Copenhagen expat community is in mourning following the passing of one of its own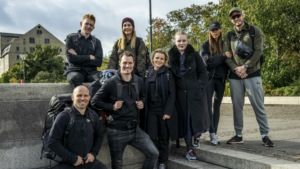 Nicklas Bendtner rang for room service. As it was delivered, Philine Roepstorff emerged in a bathrobe etc. "You rang my Lord  … where did it all go wrong?" 
Granted, Bendtner is no George Best, but at the age of just 32, his inclusion in yet another reality TV series has been confirmed. 
Natural born scorer
It would appear his popularity as a 'player' is greater than it ever was on the pitch. 
In the Discovery+ series 'Jaget vildt: Kendte på flugt', which is available for streaming from January 7, Bendtner and Roepstorff join six other GPS-emitting Danish 'celebs' on the run from a team of seasoned investigators.
Among esteemed company
Among their rivals are a team consisting of Caroline's storebror Patrik Wozniacki and MMA fighter Mark O Madsen. 
To be fair, when room service comes knocking on Patrik's door, they tend to say: "Nicely played for somebody who barely featured in 100 professional football games."
---
Ahoy me hearties: British expat and son team up for children's book
If you learned about the death of Princess Diana via CNN, there's a good chance it was revealed to you by anchorman Leon Hawthorne, who for several years now has been a British expat living in Copenhagen. Together with his six-year-old son Milo, he has just released a children's book aimed at the under-8s market. As the name suggests, 'Milo and the Magic Door' (see video below) has a Narnia ring to it, albeit it with a protagonist who is taken time-travelling – onto a pirate ship in the  Caribbean captained by Blackbeard in what promises to be the first instalment of a series. "As a British parent, I was thinking of ways to boost Milo's reading and writing in English when he goes to a Danish school," Hawthorne told CPH POST. "Milo came up with the idea of writing a story together. Hence the book idea came about." Published by Videobite, the book costs 8 euros on Amazon.
Kendrick Lamar confirmed as headliner for Roskilde Festival
US rapper Kendrick Lamar has been confirmed as one of the headliners for this year's Roskilde Festival. It will be the 33-year-old Compton rapper's third visit, as he previously performed at the festival in 2013 and 2015. He heads a line-up that includes The Strokes, Tyler The Creator, Faith No More, HAIM, TLC and Thom Yorke from Radiohead. This year's festival, which will run from June 26 to July 3, will be Roskilde's 50th edition. While the festival has already sold out, some one-day ticket options remain available. 
Danish documentary duo shortlisted by Sundance Film Festival
Two Danish documentaries – 'Flugt' ('Flee') by Jonas Poher Rasmussen and 'President' by Camilla Nielsson – have been selected for the international documentary program at this month's Sundance Film Festival, which will run from January 28 to February 3, mostly online. Both films have been produced by Final Cut for Real and will enjoy their world premieres. 'Flugt', which is animated, tells the story of Amin, an immigrant from Afghanistan who decides to come out of the closet to his family back home 20 years after moving here.  'President', a follow-up to Nielsson's Zimbabwe-set 'Democrats', assesses the country post-Robert Mugabe. Meanwhile, 'Human Factors' by Ronny Trocker, a German-Italian-Danish feature film, has been selected for the international feature film competition. It is co-produced by Danish company Snowglobe. 
Four nominations for House of International Theatre productions
The latest CPH Culture theatre awards have included no less than four recent home-produced English-language productions among its nominees for best international production: House of International Theatre's recent pair of plays Harry Clarke and The Shy Manifesto, That Theatre Company's 'The Visit' and the CTC autumn production of 'The Effect'. In addition, Andrew Jeffers ('The Visit'), Jody Fish ('Harry Clarke') and Daniel Niel Ash ('The Shy Manifesto') have all received acting nominations.
Legendary Randers music studio goes up in flames 'midt om natten'
Puk Recording Studios near Randers in Jutland – where the likes of Elton John, George Michael and Depeche Mode have recorded albums – burned down on December 27.  It was completely destroyed and investigators have not yet concluded how the fire started. Nobody was present as the studio, which was founded in 1978 by John 'Puk' Quist and his wife Birte, had stood empty for many years. In an interview with DR, former owner Peter Iversen recalled its heyday in the 1980s when many famous songs were recorded including 'Faith' (George Michael), 'Sacrifice' (Elton John), 'Personal Jesus' (Depeche Mode) and 'Midt om Natten' (Kim Larsen).
Prince Henrik recordings fuel new documentary about deceased royal
A new documentary, 'Dronningens mand' ('The Queen's Husband'), includes previously unseen footage of Prince Henrik along with several French-language audio interviews carried out by DR's Paris correspondent Stéphanie Surrugue in 2008. Director Ole Juncker's film reveals how the prince received high praise for a wedding speech that he had memorised with no real understanding of what he was saying – in his own words, he was a "parrot". It also elaborates on the criticism of his views on parenting (which included approving of disciplining children with corporal punishment), and how he was finally taken to the Danish public's hearts when he learned how to "let go and enjoy life". 
Not all YouTube: Kids not unlike adults in their love of cinema and television
Almost one half of Danish children aged 7-14 go to the cinema at least once every three months, according to a new Danish Film Institute study. It also reveals that the age group watch movies and television series just as much as adults and teenagers. They prefer to watch the films in company and series on their own. They favour fictional works and use the same streaming platforms as other age groups. YouTube is the exception, and they rarely use it to watch fictional films or series.
Another round of awards? No free ride this time!
You'd be forgiven for assuming that 'Druk' ('Another Round') would be given a free ride at this year's Roberts, but there is a challenger closing down on its right flank with an unlikely ally. Zentropa production 'Riders of Justice', which also stars Mads Mikkelsen in a leading role, has accumulated 15 nominations to Druk's 12, with 'Shorta' (11), 'A Perfectly Normal Family' (9) and The Good Traitor (9) also shortlisted for best film. Mikkelsen isn't the only the star with two nominations – Trine Dyrholm has her customary nod for 'Erna at War' – as another habitual winner, Sabine Hviid, the wife of sometime CPH POST theatre and film reviewer Mark Walker, has two for best set design. 
TV2 host sacked following #MeToo allegations
The latest high-profile Dane caught up in #MeToo is TV host Jes Dorph-Petersen, who has been sacked by the TV2 program 'Go after live'. It is alleged, and reported by his previous employer, that  Dorph-Petersen sexually harassed two former journalism interns 20 years ago.
No physical events at Copenhagen Fashion Week this time
This February's Copenhagen Fashion Week will only take place digitally, which means all the physical events held at the likes of Bella Center, Forum and Øksnehallen are cancelled. Running from February 2-4, the festival's digital platform will be launched on January 14.
Copenhagen expat community bids farewell to one of its finest
CPH POST is sad to confirm that Mike Tweats, the much-loved quizmaster at the Southern Cross pub who was a friend of many in Copenhagen and his hometown of Manchester, died shortly before Christmas. A huge outpouring of grief on social media has underscored what a popular individual the Man City fan was. His love of life and friendly demeanour will be missed by many – not least his family in England and by fellow locals at the Australian-themed pub, and also the Globe, where he was a regular winner of the fortnightly quiz with his team 'Ignorance'.