News
National Round-Up: White-tailed eagle numbers soar in Denmark
---
This article is more than 2 years old.
In other news, the new year promises increased police funding, revised fireworks laws, and improved efforts to tackle homelessness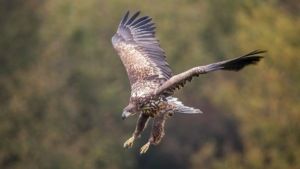 Eagle-eyed bird watchers in Denmark this year have a better chance than ever before of spotting a white-tailed eagle in the country, as numbers rise to a record high.
The birds were exterminated in Denmark towards the end of the 19th century, but a successful reintroduction campaign in 1996 has seen numbers rise quickly. In the 24 years since, 1,224 eaglets have hatched in Denmark – a number far outstripping expectations.
Fun on Funen
This year, an estimated 138 eaglets have appeared from the 121 nesting sites in Denmark. Funen has been a particular hotbed for new breeding pairs, with another five bringing the total to 29.
"There are several nests on the South Sea islands, so it's a bit of a sequel to that. But it is also because we have the lakes where they thrive really well," explained Funen's local white-tipped eagle co-ordinator, Lilly Sørensen.
Despite this success, Funen Police stated at the end of September that four eagles have been poisoned by unknown individuals using a toxin banned in the EU since 2008.
---
New guidelines target homelessness
For the first time, a set of guidelines outlining ways of tackling homelessness has been published in Denmark. The guidance was published by Socialstyrelsen and is hoped to provide a useful tool to municipalities and other relevant agencies in their efforts to tackle the issue. A virtual meeting will be held early this year by the board to provide more information.
New police agreement reached
A broad party coalition came to an agreement over an extensive, multi-year police funding program at the end of last year. Part of the deal involves a 650 million kroner increase in funding for the police and prosecution services in 2021 – rising to approximately 1 billion kroner in 2023 – with particular focus on digital and complex crimes. As well as that, 20 new local police units will be added, 110 extra local officers, and a total of 450 police officers.
New fireworks laws come into force
At the start of December, a broad parliamentary majority passed a bill promising stronger punishments for those who fire fireworks at emergency service personnel and members of the public. The new laws – which came into force on the 15 December, just in time for Christmas and New Year – mean that those found guilty will face sentences increased by a third. Police presence was increased this New Year, along with an information campaign regarding the new changes.
Denmark welcomes future centenarians
On New Year's Day, 161 babies were born in Denmark – children who, according to UNICEF, are likely to live an average of 102.1 years. The statistic puts Denmark 28th in global life expectancy figures, behind its Nordic neighbours and countries such as Switzerland, France and Spain. For newborns in Andorra, the forecast predicts they could live to be 119.2 – a figure that puts the little country at the top of the list.