News
Local Round-Up: Celebrating a century of hotdog culture in Copenhagen
---
This article is more than 2 years old.
Elsewhere, coronavirus restrictions have resulted in nearly 60 people being turned away at the borders since Saturday lunchtime, while 18 people were arrested during protests against the measures later that day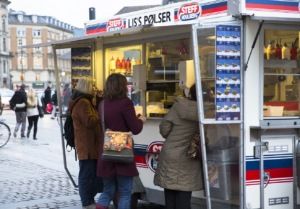 Forget Noma, Copenhageners tell visitors to their city, to get a true sense of Danish cuisine, you must try a hotdog sold by a street vendor – be it a 'nissearme', 'mumier' or 'en skaldet franskmand i sovepose' (bald Frenchman in a sleeping bag). 
For four to five generations, this pearl of wisdom has been passed on: to sailors, to occupying and liberating soldiers, and to the flood of foreigners who have made Denmark their home in recent times.
And next week on January 18 will mark the 100th anniversary of the pølsevogn, the Danish sausage cart.
The pølsevogn pioneer
Back in 1921, the love affair with the Danish nation that has endured for a century began when six carts rolled out onto the streets of Copenhagen. 
Inspired by carts that became popular in Berlin during World War I, pølsevogn pioneer Charles Svendsen Stevn finally got permission from the local authorities in 1920.
The original pølsevogn was a tow truck that carried the sausages in a heated pot. A standard hotdog with mustard back then, using sausages supplied by Søren Houlberg, would cost you just 30 øre.
Special status
"The pølsevogn has achieved a special status as a piece of Danish cultural history," Bettina Buhl, a food historian at Det Grønne Museum in Auning, told DR. 
"Most Danes have a strong early memory linked to their wonderful aromas and carriage."
However, since their heyday in the 1960s and 70s when there were 700 carts on the streets of Denmark, their popularity has been waning. Today, there are only 100 carts, of which 25 are in the capital.
Women like a good sausage
According to Simon Mikkelsen, a 27-year-old pølsevogn owner with a plot in Tårnby Torv, the most popular choice today is the roast pork sandwich, which accounts for 40 percent of his sales.
Mikkelsen tells DR he loves his job as it's "so nice to have a good chat with the customers who are completely down to earth". 
Women make up the majority of his clients, although Mikkelsen is adamant it is the sausages they are interested in.
"Women shop more than men," he pointed out.
---
Arrests during Saturday night city centre protest against corona restrictions
Some 18 people were arrested on Saturday night during a demonstration against the coronavirus restrictions at Rådhuspladsen, the city hall square. Organised by a Facebook group called Men in Black, Denmark, which has over 11,000 likes, hundreds attended, and while many were peaceful, a minority played loud music and let off fireworks. During confrontations with the police, particularly as protestors started to move down Strøget, fireworks and bottles were thrown. Copenhagen Police claims it sighted many familiar faces from the city's football hooligan environment. At a concurrent event in Aalborg, five people were arrested.
Many denied entry to Denmark via Øresund Bridge as restrictions kick in
Close to 60 people have been denied entry to Denmark via the Øresund Bridge since the introduction of new restrictions on Saturday at 13:00, which require travellers to have a negative corona test no more than 24 hours old. Some 25 passengers in cars and 33 via rail were denied entry. However, checks are carried out randomly, so plenty are slipping through, presumably. Meanwhile, three people have been prevented from entering Denmark at Copenhagen Airport because their visit had no valid purpose. It is impossible to board a flight to Copenhagen without a valid test.
City Hall to discuss bridge issues today
Inderhavnsbroen, the pedestrian and cycling bridge linking Nyhavn to Christianshavn across Copenhagen Harbour, has become a nightmare to negotiate recently due to ongoing repair work that forces its 15,000 daily cyclists into some pretty tight manoeuvres. Furthermore, the point where the bridge connects with Nyhavn is still causing confusion among pedestrians and proving difficult for Christianshavn-bound cyclists looking out for cars. City Hall is accordingly discussing an analysis of the problems (which was paid for by the 2020 budget) today. The bridge's designers originally envisaged that the bridge would cater to 7,000 daily cyclists.
Metro barricades more of an opportunity than an eyesore in Sydhavn
Copenhagen suburb Sydhavn is showing the wider city area how it went wrong during the construction of the new Metro line, the City Ring. Instead of barricading the ongoing construction work with plain white facades, it has invited local artists to decorate them. A company called Metrokunst (Metro art) is in charge, and already you can admire Europe's longest continuous graffiti work. Additionally, there are even spots to advertise. Last Thursday, the boring machine 'Inge' began work on the stretch of tunnel linking Enghave Brygge to Havneholmen. Last month it completed work on the stretch to Ny Ellebjerg. The new line, an extension of M4 connecting the suburb to the City Ring, is expected to open in 2024.