News
Scheduled for departure! Longtime SAS boss checking out
---
This article is more than 2 years old.
After spending a decade helping to turn around the embattled airline, CEO Rickard Gustafson will step down by this summer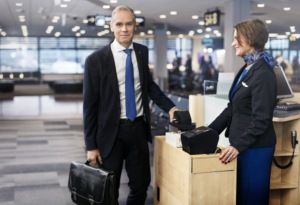 SAS ended the year with a deficit of 6.8 billion kroner for 2020, a year during which the COVID-19 pandemic has decimated the aviation industry.
Last night, more woe emerged as the airline revealed that long-time CEO Rickard Gustafson will step down as SAS boss by July 1.
"I'm both disappointed and sorry that Rickard wants to move on from his important role in SAS. At the same time on behalf of the Board of SAS, I want to thank Rickard for his fantastic performance during his ten years as President and CEO," said SAS chairman Carsten Dilling.
"SAS is still in a critical – but stable position – and the board has of course immediately started the process to appoint a new President and CEO of SAS."
READ ALSO: SAS among safest airlines in the world
Talisman of the turnaround 
Dilling praised the Swede's efforts over the past decade, particularly his work guiding the airline to clearer financial skies.
"Under Rickard's management SAS has made a remarkable turnaround, from loss to several years of profitable performance," said Dilling.
Gustafson will reportedly join Swedish industry giant SKF as CEO in the near future.
There was a bit of good news for the airline this week – it was listed in the top 20 safest airlines in the world.