News
International Round-Up: Hong Kong to investigate possibility of prosecuting Danish politicians
---
This article is more than 2 years old.
Shipowner, meanwhile, to go to prison for exploiting two Ghanaian illegal workers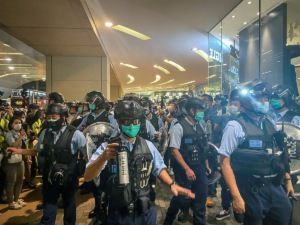 The Hong Kong Ministry of Justice is currently investigating whether sections of their law can be applicable to prosecuting Danish politicians who aided a pro-democracy activist to flee.
"Wherever any person (including foreign politicians) is suspected of having committed a crime by having organised, planned or assisted with an escape, the police will actively investigate and pursue its legal obligations within the framework of existing legislations," writes the minister of security, John Lee.
Danish politicians Uffe Elbæk and Katarina Ammitzbøll helped Ted Hui to flee in December 2020. He is facing charges of pro-democracy and, if convicted, would be sentenced to several years in prison.
Potential diplomatic nightmare
The Danish politicians issued a fake conference invitation to Ted Hui, giving the impression he will be talking about the environment and sustainability. The Hong Kong police accordingly didn't suspect he was planning to go into exile in Denmark.
The case could potentially cause damage diplomatic ties between Denmark and China. Hong Kong's local government is a subordinate to China.
The Danish foreign minister, Jeppe Kofod, denies any wrongdoing on account of the politicians and emphasises that they should be able to meet whoever they want without any fear of reprisals.
---
Greenland to bring a thousand stranded citizens home from Denmark
Greenland plans to evacuate 1,000 of its stranded citizens from Denmark over the next 14 days. They will be sending 11 special flights to pick up those who wish to return. Air traffic has been closed in Greenland in order to stop the spread of the British variant of coronavirus.
Danish government aid pledge to repatriate Western Balkan migrants
The Danish government has earmarked 45 million kroner for two development projects in the Western Balkans, where thousands of migrants are facing a humanitarian crisis. The project will strengthen border controls as well as the repatriation of migrants and rejected asylum-seekers. Currently, over 1,600 migrants are living in destroyed buildings and tents as the result of a fire that destroyed the camp of Lisa in Bosnia.
New UN Deputy Special Representative from Denmark
Mette Knudsen has been appointed the new Deputy Special Representative (Political) for Afghanistan at the United Nations Assistance Mission in the south Asian country. She previously served as the ambassador of Denmark to Afghanistan.
West Jutland shipowner convicted of exploiting foreigners
A shipowner from Thyborøn has been given a sentence of one and a half years in prison and a fine of three million kroner for exploiting two Ghanaian fishermen. The men were hired under unfair working conditions that included a monthly salary of 9,000 kroner for working 66 hours. Their residence permits expired in 2017, which meant the shipowner was also convicted of making them work and stay in Denmark illegally.
Danish breast milk substitute a hit in China
There is great interest in a new Danish breast milk substitute in China to the extent that private Chinese citizens are buying it to sell on. So-called 'daigou' shoppers purchase everyday items from Danish supermarkets and then sell them. One of the most popular items was found to be the breast milk substitute.