News
Predictions are a difficult art: sometimes the answers are deep within
---
This article is more than 2 years old.
New direction should see the world navigate itself out of choppy waters, but we need to change our outlook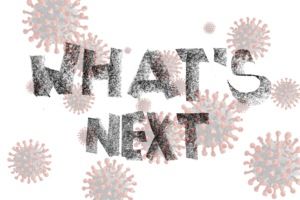 Storm P, a Danish cartoonist a hundred years back, stated that predictions were a difficult art – especially about the future. Since everything is upside down for the time being, many think the future to be likewise. Not so.
Defence team mobilised
By midsummer the pandemic is under control – in Denmark, we hope. Vaccines are distributed and lockdowns  are history. 
Whether that also goes for the rest of the world may still be in the balance. COVID-19 may mutate into some even more aggressive form and have to be put down too. 
However, the combined scientific defence has been mobilised in record time and will stay on the alert, so new vaccines and change of behaviour will contain the virus. But then what?
Anything but peachy
In Denmark, the blue parties are critically behind in the polls. Former government party Venstre is torn, not least by the number of MPs leaving its ranks, willfully or not!
MP Markus Knuth has defected to Konservative and is now hard-lining their immigration policy there. So has the former leader, the country's old PM Lars Løkke Rasmussen, who has defected to a solo position. 
While immigration hardliner Inge Støjberg is fighting for her political life in the wake of her impending impeachment trial, following criticism from the Instrukskommission that she lied to Parliament and issued an illegal order to separate asylum-seeking couples and families.
The blue parties are way behind in the polls and a comeback, of any kind, looks highly unlikely in 2021. 
Immune to everything
There's no doubt: the PM is safe and sound, and she has the floor. 
Even the aftermath of Minkgate can't taint her. Even a constitutional court procedure will only shake her a bit – not tumble her. She acted promptly and did the right thing, even if the timing and legality were a little off. Consequently she sacrificed her cabinet minister Mogens Jensen on the altar. 
We do not expect the fur industry to be revived – it will have to start from zero. More likely it will move to Sweden.
The pandemic is costly. The bill has to be paid. Taxes will increase. The average Danish tax burden is now over 46 percent. The financial sector is in focus, partly as a result of its perceived disrespect and tendency to whitewash. Consumers will end up paying eventually, of course. 
Embracing green taxes
Maybe we will see a new CO2 tax introduced. It has been recommended by the 'wisemen' and it can be started pretty mildly and increased as you go. 
The problem is the technical difficulty of measuring the emissions in a fair way so it does not become a new tax evasion sport for everybody. 
More taxes on fossil fuel, electricity and district heating are also likely, as the infrastructure is already in place.
Living history lessons
Climate is always on the agenda with this government, and fortunately for them it is permanently on everybody's mind these days, not least our children's. It's not dissimilar to how many of us were taught to fear the Cold War and the possibility of a nuclear war. 
Now kids are taught about a new threat to humanity and how they can help make a difference. It is going to change the way we eat, dress and live. 
Older citizens remember the energy crisis of 50 years ago. Car-free Sundays, small windows etc. We will see that sort of thing again – most of us have been more than willing to follow the coronavirus restrictions, but it will be a struggle for some.
We have already seen demonstrations against the lockdown and a surge in the number of young people not complying with the rules – for example, falsely claiming to suffer from asthma when they enter the bus without facemasks. We know they are paying a high price for all this confinement, as youth doesn't last forever, so will they tow the line?
Capitol's wake-up call
The world at large may go back to normal now that President Trump is history. Joe Biden will bring grandfatherly order to the US in a predictable fashion. 
The raid on Capitol Hill opened our eyes – and those of over 50 percent of Americans – that democracy does not come automatically but needs to be nursed. 
Social media needs to be made responsible for quality control as the dissemination of fake news and spread of disinformation sadly enough is not self-controlling. 
Time to engage
Radical minorities can create havoc – left and right. Politicians who should know better fear for their political life if they stand up against it. 
We have seen this before. We must look our politicians straight in the eye and hold them responsible. We need to be able to respect them as popular disrespect will only deteriorate democracy. 
In Denmark we have seen membership of political parties drop. That has to change. If the common citizen does not undertake direct responsibility, we only have ourselves to blame if our systems and institutions implode. 
Call them to order
Conversely, the threat of Trump has generated new support for the EU and NATO among the general population, and the EU especially is stronger now – never mind the loss of the UK. British PM Boris Johnson may have got his country back, but we are yet to see if it is in one piece when the consequences become a reality and not just populist propaganda. 
The pandemic has shown us we cannot walk alone, and that it is time to develop international solidarity and call the likes of Hungary and Poland to order. 
The EU may still be a construction site, but we must make sure we see the budget for the next seven years through, as its strong institutions will play a vital role in the areas of security and affluence after financial crises, Brexit and the pandemic.
Budget curiosities
Back in Denmark, the budget law demands a balance of less than minus 0.5% of BNP. The budget, which was agreed upon on December 20, respects this margin. 
There were allowances for all the red parties as a reward for supporting the PM's early retirement pension for people who have worked for more than 40 years in the labour market – worn out or not. It will be interesting to see the bill when it is activated. 
Big year for Blue Bloc
And it will be intriguing to see what happens in the local and regional elections later this year, not least among the blue bloc parties. 
We expect that Dansk Folkeparti – once the biggest blue party – will suffer dramatically and might be forced to change its leadership. While Konservative will continue to grow and overtake Venstre as the biggest blue party. 
The maverick right-wing newcomer Nye Borgerlige will probably not be able to manifest its national strengths locally, since its anti immigration platform is the same as everybody's on the blue side. 
Lessons learned
In 2020 we learned to wash and disinfect our hands and wear masks. We are keeping our distance and generally not hugging and kissing to the extent we used to.
Adopted from cultures in warmer climes, many Danes are secretly happy with this, so expect the elbow and fist greetings to become the new normal and for intimacies to be reserved for private purposes. 
It might very well eradicate the flu we would otherwise expect in the autumn. 
Happy new year.