News
Science Round-Up: Danish anthropologist compares the complexity of a dinosaur's anus to a 'Swiss Army knife'
---
This article is more than 2 years old.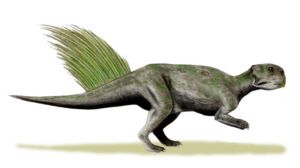 A Danish-led research team has successfully reconstructed a dinosaur's multi-functioning anus, gaining an exclusive sneak peek into their sex life and reproductive functions.
It is believed to have functioned as both a pee hole and feeding hole. This is why Jakob Vinther, the lead author of the study, has jokingly called it the "Swiss Army knife of a rear opening", whilst speaking to vindenskab.dk
The reconstruction is of a 'Psittacosaurus', a dinosaur the size of a Labrador with a long parrot beak and horns, which lived between 65-145 million years ago.
Started with a larynx, now here we are
Initially researchers found the larynx of a 38-million-year-old bird, and that's when Vinther first said he hoped to find the larynx of a dinosaur.
Fast forward to a number of anthropologists finding a specimen of a Psittacosaurus in China. They noticed how extremely well-groomed the buttocks were, and that led to the current reconstruction.
As well as the various bodily functions, they also found that it resembles a crocodile's anus. This entails how it is darker as it covered by melanin, presumably to attract mating partners and provide antimicrobial protection.
---
Young people more likely to feel lonely during COVID lockdown
Researchers from the University of Copenhagen have identified two groups who are more likely to feel anxious and lonelier during the COVID lockdowns: the under-30s and the mentally ill.  The research included 200,000 individuals from Denmark, the Netherlands, France and the UK. They emphasised that mental stress has long-lasting effects and these vulnerable groups should be closely monitored by heath officials.
New invasive pest found on Danish apple trees
Aphis, an invasive pest, has been found for the first time in Denmark by the University of Copenhagen. How the pest got here is currently unknown, but it can present trouble for apple tree growers in the future. The pest is known to suck the nutrition out of the plants as well disrupt the photosynthesis of the leaves. It remains to be see if this is an isolated case, or whether the species has already settled due to the milder climate.
Oldest meteor crater is probably not in Greenland after all
The University of Copenhagen has determined that the Maniitsoq Crater in Greenland, which was previously believed to be the oldest of its type, is in fact not a meteor crater. The original hypothesis of 2012 mapped out how the area was shaped by the shockwaves of a meteor. But now this hypothesis has been disputed as researchers contend that they can explain its origins by ordinary geological processes.
New technology to find and clean water in Afghanistan
A project collaboration between the Technical University of Denmark and Kabul Polytechnic University will use satellite data to uncover water resources and purify them in Afghanistan. In addition, the Danish Committee Aid to Afghan Refugees (DACAAR) will participate in the project. Currently climate change, poor infrastructure, conflicts and political unrest pose a challenge to finding and purifying water in Afghanistan.
New intelligent drone to check high voltage wires
A team of researchers from the Mærsk McKinney Møller Institute have developed a new intelligent drone that can check high voltage wires. When the drone runs out of power, it recharges itself in a magnetic field around the wire. Today, there are 7,000km's worth of such wires hanging over Denmark, and their maintenance is risky and expensive.
New link between obesity and breast cancer
Obesity has been found to make cancer cells to be more aggressive and spread easier in the case of breast cancer. It has also been found that there is a greater risk of getting cancer. Rasmus Siersbæk, an assistant professor at SDU, explained that it is crucial to understand this link and it is not about body shaming, but rather raising awareness about what influences our heath. In Denmark there are approximately 5,000 women diagnosed with breast cancer annually.