News
Coronavirus Round-Up: Urban tourism decimated; first child fatality; and vaccine study launched
---
This article is more than 2 years old.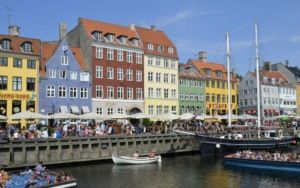 The final figures aren't official yet, but the tourism industry can expect a shortfall of 31 billion kroner due to the Coronavirus Crisis, according to a Ministry of Trade and Industry analysis of Visit Denmark data. 
There have been 44 percent fewer overnight stays by foreigners, a 48 percent decline in hotel stays, and metropolitan and business tourism has suffered a 55 percent decrease in revenue.
Between 40,000 and 44,000 full-time workers in the industry have lost their jobs.
According to the trade and industry minister, Dan Jørgensen, a National Tourism Forum is working on a  strategy for sustainable growth in tourism with a focus on green and climate-friendly initiatives.
Regions less affected
Nevertheless, not everyone has suffered, as more Danes holidayed at home during the summer. 
Between January to November 2020, 68 percent more Danes spent at least one night in a holiday home compared to last year.
German tourists also visited Denmark in heavy numbers last summer. Coastal and nature tourism will accordingly see just a 6 percent dip.
Overall, accommodation catering to tourists brought in 56.1 billion kroner, compared to 132.5 billion in 2018. 
---
How long and how good? Wide vaccine study launched by hospitals
An ongoing study carried out by researchers from Rigshospitalet, Herlev, Gentofte and Nordsjælland hospitals will assess the effectiveness of the vaccines being administered in Denmark. The results of the large study, which will primarily measure the antibodies of hospital employees and thousands of patients, will be ready in 2023. The key questions will include: how long are the vaccines effective, can a vaccinated person carry the coronavirus, and do they work?
Coronavirus claims first child fatality
Statens Serum Institut has confirmed that the coronavirus has claimed its first victim under the age of ten. The child already had serious health problems. Nobody aged 10-30 has yet been killed by the coronavirus, and only five people aged 30-39 have died, and four people aged 40-49. Over the 24 hours up until yesterday afternoon, 397 people new infections have been recorded.
Furlough numbers heavily down on spring of 2020
According to a survey of Dansk Industri members, companies have furloughed half as many staff as they did during the 2020 spring lockdown. In Week 2, the member companies – who together employ around 600,000 people, accounting for 30 percent of Denmark's private workforce – reported they had sent home 23,000 workers, compared to 48,000 in Week 19 last year. "It is surprising when you consider that the closure is just as extensive this time, and that there are also extensive restrictions in many other countries," commented DI's deputy secretary-general, Steen Nielsen. "But there is not the same shock effect. The first shutdown brought sudden and colossal change."
Tripartite agreement on compensation approved by MPs
Parliament yesterday approved stricter rules for the compensation scheme that will require furloughed employees to take more regular and shorter holidays, which were agreed on January 14 as part of a tripartite agreement between unions, employers and the state. For example, the furloughed employees will need to take one day holiday over their first three weeks (from Jan 18), and then one day for every four weeks thereafter. 
Dubai flight ban extended
The ban on flights from Dubai, which was implemented on January 22, will continue until the Transport Ministry is confident it can stop infected people entering Denmark. An announcement concerning further testing and isolation requirements, and their legal enforcement, is expected shortly.
Wide collaboration on corona passport
Dansk Industri along with a number of other key players have been invited by the government to contribute to the development of a corona passport, which will enable professionals whose work depends on travelling to resume taking trips as soon as possible. Input has been asked from several cultural entities, along with business ones. Should everything go to plan, the passport will be launched via Sundhed.dk at the end of February.