News
Denmark pulls aid to Myanmar in wake of military coup
---
This article is more than 2 years old.
Development minister underscores that aid will instead be sent directly to the country's civil society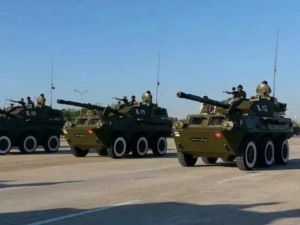 Six years ago, Denmark congratulated Myanmar on its election of its main opposition party (NLD) – led by iconic dissident figure Aung San Suu Kyi.
Now, the Danes have moved to pull its aid to the state after the military seized power in a coup this week.
"We can't support the military coup and have thus been forced to halt all development activity that goes to the country via the government," said the development minister, Flemming Møller Mortensen.
Since 2016, Denmark has pumped around 250 million kroner into the country – 23 million kroner through the government in last year alone. 
Mortensen underlined that Denmark would continue to support aid initiatives that are not government sponsored. 
READ ALSO: Danish aid going to refugees from Myanmar
A fall from grace
The coup has attracted much criticism from the world community, including from the EU, US, UK, Australia, India and the UN.
The country's de facto leader Aung San Suu Kyi, who famously spent some 15 years under house arrest for her political views, is among the government figures who have been detained.
However, she had come under heavy fire in recent years due to her handling of the Rohingya minority refugee crisis.