News
City Hall moves forward with controversial development plan in Amager
---
This article is more than 2 years old.
Despite considerable opposition to the new housing area in the Amager Fælled nature area, local politicians have approved its masterplan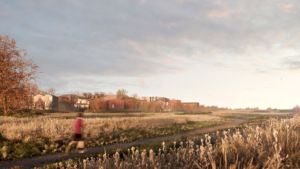 Say goodbye to the mundane-sounding 'Vejlands Kvarter' and hello to the more snappy 'Fælledby'!
That's the new name given to the controversial residential housing area that City Hall is looking to establish on the outskirts of the capital's nature gem, Amager Fælled.
The new name was included in the local politicians' green-lighting of the masterplan for the development of the area.
Most of Fælledby will consist of rental property – a quarter of which is to be earmarked as affordable public housing. 
There will be three neighbourhoods in the district, including cafes, shops, a public school, two daycare centres, an elderly centre, parking options and a supermarket (see image below).
Preparatory work on the project will commence this spring.
"From the start, we've had high ambitions in terms of creating a neighbourhood that respects its unique location and surrounding nature," said Anne Skovbo, the CEO of city and port developer By & Havn.
"With Fælledby we will have a new and visionary concept about how future green and climate-friendly cities can be developed and how we can coexist with nature in big cities."
READ ALSO: Reptilicus is back! Only this time it's an endangered newt holding up a property developer
Outcry falls on deaf ears
The news comes in the wake of the prospective residential area potentially being delayed by another year due to concerns over an endangered newt.
Nature advocacy organisations and the public have also criticised the plans and seek to scrap them.
However, that didn't prevent Socialdemokratiet, Radikale, Socialistisk Folkeparti, Venstre, Konservative and Dansk Folkeparti from voting in favour of the project late last week.
Only Enhedslisten, Alternativet and Frie Grønne voted against.
Read more about the new area here (in Danish).