News
Freddy's Frogman unit to rethink collaborating with Australian elite soldiers in light of damning report
---
This article is more than 2 years old.
There are no suggestions that Danish forces were involved, claims Danish special forces leader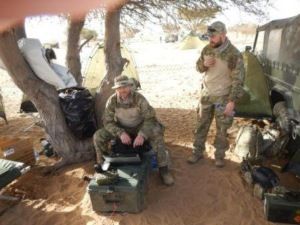 When Crown Prince Frederik married Mary Donaldson in May 2004, it followed months of heavy media scrutiny in Denmark regarding who their future queen consort might be.
Over in Australia, speculation about Freddy was a little more relaxed – particularly when news circulated that the prince was a badged Frogman, the Danish equivalent of the Navy Seals, of which only a very select few pass the training.
But now the boot is on the other foot again, as reports of Australian special forces committing barbaric acts in Afghanistan have the Danish military rethinking future co-operations with them.
It might also lead to an investigation into whether any Danish military personnel were involved in the atrocities. While the Danes were principally based in Helmand, the Australians primarily operated in Kandahar and Uruzgan, which are neighbouring provinces.
Murder and torture
A recording taken from a helmet camera would appear to show Australian elite soldiers from the Special Air Service Regiment (SASR) torturing and executing prisoners-of-war – and even innocent civilians. 
Additionally, a report released by the Australian Defense Independent Prosecutor's Office in late November details an extensive list of war crimes carried out by SASR personnel in Afghanistan up until their withdrawal in 2016.
The report is not hearsay. It is 531 pages long and contains 423 witness testimonies, 20,000 documents and 25,000 photos. It speaks of a "toxic warrior culture" among the SASR soldiers. 
And as a result, 25 soldiers are now under investigation for their involvement in 39 killings.
Future training in doubt
Frederik's very own Frømandskorps is among the Danish units reconsidering future involvement with their Australian counterparts.
Australian terrain is ideal for training the soldiers in the art of staying undetected in barren landscapes with minimal resources.
Exercises involving both the Frømandskorps and the Danish Army's special forces unit, Jægerkorps, were planned with the SASR later in 2021.
However, according to Major General Peter Boysen, the head of both Frømandskorps and Jægerkorps, the exercises might have been cancelled due to COVID-19 anyway.
"We would have spoken up"
Nevertheless, Boysen said that the report would be heavily scrutinised, and that a decision will be taken on future collaboration. 
An initial appraisal suggests no Danish military personnel were involved, he claims.
"There is nothing to suggest we were with the Australians. There are also no indications that coalition forces participated," he said.
"I have a very hard time seeing that something similar could happen in a Danish unit. Our culture is unique, I think. The hierarchy is flat and we have a tradition of speaking up when we think something is wrong."