Things to do
On Screens for February: Gay and Gallic: Grab them and don't let go
---
This article is more than 2 years old.
This month's recommendations to binge are 'It's a Sin' and 'Call my Agent!' Oscar Wilde would have loved them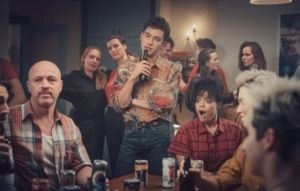 Promiscuity on the London gay scene, I would have said. Pretentious French cinema … I had enough of all that at university. But then I would have missed out on my absolute two favourite shows of this winter lockdown.
With very slim offerings this February, you could do a lot worse than following my advice and checking out It's a Sin on HBO Nordic and Call my Agent! ('Dix pour cent' in French) on Netflix.
Not only are they laugh riots free of the ludicrously outdated beats of sitcoms of yesteryear, but they both also offer moments of genius worthy of Oscar Wilde. Given that he ended up dying in Paris, he would have loved them both.
A sin not to watch it
LGBT media has been busy comparing It's a Sin to Queer as Folk, Russell T Davies' first major TV series, but I think it's more similar to his recent Years and Years – in that it's brilliant, as opposed to brazen.
When Queer as Folk was first broadcast in 1999, LGBT equality was severely lacking, and that may have blindsided many of its fans to its failings: namely that most of its annoying cast looked like badly dressed extras in The OC. Oh, and that it launched the career of Charlie Hunnam.
The first episode of It's a Sin is joyous … no other word for it. Brilliantly evocative of the era, and packed full of unforgettable characters so well conceived they barely need to breathe awkwardly to make an impression, it really makes a connection.
And when the impending disaster that is the AIDS epidemic starts to loom its head, you know it's going to be one hell of a wrench letting go.
24 hours of pleasure
Mon dieu! Call my Agent! already has four seasons, which is pretty much a day's worth. It was made for lockdown.
How come you've never heard of it, you may be asking, particularly as there are moments that will make you laugh, cry, root for the underdog and yearn for a summer job interning at ASK, the film star agency setting of the series.
Well, maybe some critics initially thought it was an Extras rip-off, and they might have had a point: episode one isn't much more than a shabby French version featuring washed-up actors flattered into the idea they're still stars.
But then it starts to surpass Extras, notably at the end of episode two, which offers a moment of sheer genius. It's also striking how seriously 'the stars' play their roles (there's none of the post-Ricky Gervais giggly wryness), and some of the situations the screenwriters conjure up are so unbelievable they must have actually happened.
This is not paradisiacal
I had similar thoughts when I watched This Is Paris (YouTube) the other night. A lot of it was clearly staged (there was even somebody listed as the screenwriter) and I had to look up Miss Hilton's toyboy boyfriend Aleks Novakovic to check he wasn't a (really bad) actor. Paris dumps the ex-footballer/now influencer during a daytime DJing gig after he gets blind drunk.
Hang on, say that again: Hilton's a DJ and we've got techno during the day and a drunk boyfriend but no bar. All I know for sure, and there was no mention of this in the documentary, is that she was scraping the barrel so much in 2012 that she got a gig testing the dating abilities of the male contestants in the Danish version of Paradise Hotel.
I know, you're fuming that I brought her up … you'd thought you'd heard the last of her in 2005. But I'm telling you: apparently she invented social media, earns billions from selling cheap tat to insane-looking Korean people and, worst of all, was Kim Kardashian's mentor.
Mirth in the morgue
Fighting over Kim's crown, and corpse were she to suddenly die (perish the thought, but it does tend to happen when you stop working), are the stars of Buried by the Bernards (Netflix; Feb 12), a reality show echoing Six Feet Under about a family of feuding undertakers.
Elsewhere on TV land, we have three returning series on HBO Nordic – Snowfall (S4; Feb 25), Outlander (S5; Feb 17) and Loudermilk (S3; Feb 18) – the rather absurd looking Tribes of Europa (Netflix; Feb 19), and the biodoc Pele (Nefllix; Feb 23), which we hope doesn't curse its subject like the last one did.
Continuing with the morgue vibes, a number of fairly big films are opting to premiere on television, with Justice League: Part II (HBO Nordic; March 17) possibly choosing to jump before it's pushed, as it will reportedly kill off two more major characters (here's hoping).
Meanwhile, Malcolm & Marte (56 on Metacritic; Netflix; Feb 5) is hoping for major award nominations for title characters John David Washington and Zendaya, but looks more like a televised play; Red Dot (Netflix; Feb 11) is a promising looking Swedish thriller, basically Phone Booth in an icy wilderness; The Way Back (HBO Nordic; Feb 10) sees working class hero Ben Affleck get his life back together as a college basketball coach; Chiwetel Ejiofor and Anne Hathawy argue their way through the corona restrictions before planning a heist in Locked Down (HBO Nordic; Feb 5); and News of the World (Netflix; Feb 10), perhaps the biggest release of the month, stars Tom Hanks as a Civil War veteran/surrogate dad/travelling news reader in a western directed by his Captain Phillips helmsman Paul Greengrass.
Grass … is always greener on the other side of the lockdown.