News
Sports Round-Up: Danish basketballers face day of destiny
---
This article is more than 2 years old.
In other news, 'The Lord' has unofficially retired from football and one of his former national team-mates is on the verge of greatness in Italy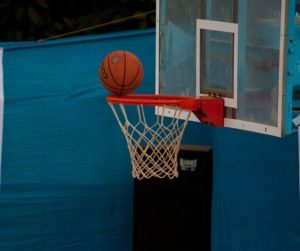 The Danish basketball team need a miracle tonight in Vilnius against Lithuania with a place in next year's EuroBasket, the quadrennially-held European championships, up for grabs for the winners.
Following a 65-88 drubbing at the hands of group leaders Belgium on Saturday, which was also played in the Lithuanian capital, Denmark must now repeat its heroics of November when it emerged triumphant by a score of 80-76. 
And they must do it without their star players Iffe Lundberg and Darko Jukic, who broke his hand in training last week.
Up against the mighty lions of Lithuania
Denmark might have a population twice the size of its Baltic Sea neighbour, but in basketball terms the countries are leagues apart. 
Basketball is Lithuania's favourite sport and, despite the Soviet era, they have won three EuroBaskets, which in football terms makes it the Uruguay of world basketball. 
In fact, during the Soviet era, its players used to dominate the side, playing a major part when the USSR beat the USA at the 1972 Olympics – the first time the Stars and Stripes (previously with a 63-0 record) had ever failed to land gold.
On the verge of greatness
When Denmark won in November, the national coach Erez Bittman called it "the biggest Danish victory in history".
Should Denmark fail, they will rue their opening match defeat against the Czech Republic, who are likely to finish bottom of the four-team group should they not beat Belgium tonight.
It's particularly frustrating as in four of the other seven groups the top three qualify, but in Denmark's only the top two, as the Czechs are already assured of one of the 24 places courtesy of being one of the four co-hosts.  
Denmark has only ever participated in three EuroBaskets – 1951, 1953 and 1955 – with their best finish, 14th, coming on their debut.
---
Denmark wins 17th European Mixed Team Badminton Championship title
Denmark has retained the European Mixed Team Badminton Championship, a biennial tournament it has now won 17 times. Contested in Finland this year, Denmark won the best-of-five final 3-0 against France thanks to Viktor Axelsen, the current number two in the world, winning the men's singles, and Mia Blichfeldt winning the women's – both in straight sets. Kim Astrup and Anders Skaarup Rasmussen then won the men's doubles to ensure Denmark did not drop a single set – in stark contrast to the semis in which Denmark needed to dig deep to see off Germany 3-2.
Say it isn't true, Lord! Bendtner unofficially retires from football
Nicklas Bendtner, 33, had been expected to seal a deal in China before the coronavirus took hold, and there might have been some fans hoping 'The Lord' would continue a professional career that stopped when he played his last game for FC Copenhagen in 2019. But now he has confirmed he is "waving 'a little goodbye' to football" in a new documentary called 'Bendtner & Philine', reports BT. Along with his girlfriend Philine Roepstorff, he has been busy carving out a career in reality TV. However, Bendtner has previously indicated he intends to pursue a career in coaching.
Call me 'Melinite' Musah! Kojo eclipses Dynamit's mark at 60 metres
Kojo Musah, 24, will next month compete in the 60 metres at the Indoor European Championships as the new Danish record holder. In qualifying, he eclipsed Kristoffer 'Dynamit' Haris' previous mark of 6.62, shaving one hundredth of a second off the time, and he will now be hopeful of making the final in Poland. Musah, whose father is Ghanaian, has a personal best of 10.29 in the 100 metres – 0.03 shy of the Danish record held by Haris.
Series A medal's winner in the bag, but for which national team legend?
It is looking increasingly likely that a Dane will pick up a Serie A winner's medal, as the clubs of Christian Eriksen and Simon Kjær, Inter and AC Milan, currently sit first and second in the table, nine and five points clear of the rest of the pack. The pair met at the San Siro yesterday, with Inter emerging triumphant 3-0. For a long time Eriksen was out of favour with Inter coach Antonio Conte, but he has become a regular starter over the last month thanks to some impressive displays. Should either of the Milan clubs grab the title, it will be the first time in ten seasons that Juventus has failed to win. La Vecchia Signora currently trail Inter by 11 points in sixth. 
Denmark follows the crowd, but no jumping the queue!
Denmark has confirmed it will be vaccinating all of its sports people taking part in this year's Olympics in Tokyo. However, none of the 150 athletes and 200 officials will be jumping the queue, as the entire country should be vaccinated by June 27 – almost four weeks ahead of the Olympics starting on July 23. The International Olympic Committee confirmed in January that a vaccination would not be mandatory to compete in the games. Denmark joins a growing list of committed countries that includes Israel, Serbia, Hungary, India, the Philippines, Lithuania, Greece and Belgium.