News
Scrap your Friday takeaway plans – Wolt drivers are planning a strike
---
This article is more than 2 years old.
Demonstration planned in Kongens Nytorv instead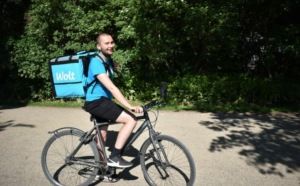 If you were planning to celebrate the end of the week with a takeaway, you might want to rethink your plans. 
Wolt drivers have called a nationwide strike for this Friday to protest against the removal of their weekend bonus.
Bonus was vital
"We consider the weekend bonus as vital for our economies," read a statement from the couriers.
Instead, Wolt drivers are calling upon one another to congregate in Kongens Nytorv from 17:00.
Flood of support, and some concern
Already on Facebook, the Wolt drivers have received a flood of support from the public.
"I shall be boycotting Wolt until this is fixed. Solidarity with the couriers!" read one of the comments on the Facebook group Expats in Copenhagen.
However, others have expressed concern that potentially hundreds of people might congregate in light of the current coronavirus restrictions.