News
Corona closures continue: March 1 reopening … sounds more like April 1 reopening
---
This article is more than 2 years old.
Most of the outdoor cultural institutions won't be admitting the public next Monday, and very few of the schools will be welcoming back students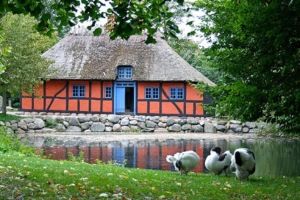 The March 1 reopening is turning into a giant squib.
First, the cultural institutions confirmed they won't be opening on Monday.
And now most of the schools in North and West Jutland, which are allowed to open up for graduating students (typically those aged 15-16 and 18-19), and on Bornholm, where all students are welcome to return, have said the same.
It would appear that neither have been given enough notice after being closed for more than two months, and that they are all still waiting for important guidelines.
If only the government's task force of experts had been able to foresee that.
Copenhagen Zoo … Tivoli … Frilandsmuseet … forget it!
Copenhagen Zoo is among those that won't be open on Monday. The association DAZA – ​​which represents all of the zoos, safari parks and aquariums in Denmark – has confirmed that none of its members are ready.
"Right now we are seeing how quickly we can get ready," DAZA chair Helle Hegelund told TV2. "But we have not received the guidelines, so we need them before we can open. We hope that we can be ready by Thursday next week."
New restrictions will require visitors to possess a negative coronavirus test taken within the last 72 hours. Indoor areas will be out of bounds, and the new guidelines might require other restrictions that were not in place last year.
Likewise, the outdoor museum Frilandsmuseet won't be opening because it is in the middle of laying a thatched roof, while Tivoli has said it intends to open closer to Easter.
Guidelines missing on twice-weekly testing and parental consent
Graduating students are raring to return to their studies, but according to Thomas Thors, the mayor of Bornholm, and Claus Hjortdal, the chair of the Skolelederforeningen school leaders association, they may have to wait a little longer.
While the schools in North and West Jutland have received some guidelines, they have not received the crucial ones pertaining to students over the age of 12 needing to be tested twice a week, for which the schools will need parental consent.
"We are still waiting to see those guidelines, so I simply do not think it is possible to get ready for Monday morning," Hjortdal told TV2. 
To make matters worse, all the schools in North and West Jutland have been on their winter break this week!
Thors, meanwhile, thinks Bornholm will probably manage to welcome back the students by Wednesday.