News
Business Round-Up: Runaway success across the world for Danish mobile game company
---
This article is more than 2 years old.
Another sound year for Vestas, but overall a 3.7 percent decrease for Denmark's GDP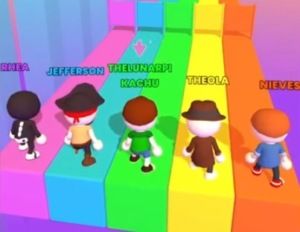 Business at Umami Games, a company started by three Danish mobile game enthusiasts in 2019, is booming.
Some 2.5 million downloads of its mobile game 'ABC Runner' in just one month has seen it soar into the top three of Apple's chart for the most downloaded mobile games in the US, where it has remained for the last four weeks.
Free games
The trio of Riley Andersen, Mads Nørgaard Anthony and Lars Zilmer have overseen the launch of 30 mobile games in two years.
Most, like 'ABC Runner', are free to download.
Most revenue from ads
The company, which is based in Vesterbro, recently raised 3.6 million kroner in an investment round.
It makes most of its revenue from ads exposed to users of the games.
---
GDP fall in 2020 was worst since financial crisis
Denmark's GDP fell by 3.7 percent in 2020, according to Danmarks Statistik. It represents the biggest fall since 2009, the worst year of the financial crisis, when the GDP shrank by 4.9 percent, and it is the second worst year since the end of World War II. However, it is a long way off the 10 percent dip predicted by Nationalbanken during the first wave of the coronavirus last spring, and optimists point to a slight rise of 0.6 percent over the fourth quarter as proof the economy will bounce back when it has the chance. Most other countries in Europe have fared far worse
Price of mink soars following cull
The price of mink in Denmark has risen by 79 percent, according to Copenhagen Fur's first auction of the year. The average price of a hide was 284 kroner, while the best quality hides attracted prices of around 600 kroner each. In total, two million skins were sold in the first auction since 17 million mink were culled in November.
Denmark ranks well for soft power
Soft power is a nation's ability to influence preferences and behaviours (of states, corporations, the public etc) through attraction or persuasion rather than coercion, and Denmark has ranked 15th in Brand Finance's Global Soft Power Index 2021. Germany topped the list, replacing the US, which fell to sixth. Completing the top ten are Japan, the UK, Canada, Switzerland, France, China, Sweden and Australia. Additionally, Denmark ranked number nine for the way it dealt with the coronavirus, ninth for ease of doing business, sixth for political stability, and 15th for international relations.
Rise in profits for Vestas as turbines continue to increase in size
Vestas has confirmed a 10 percent rise in profits for 2020 – up 71 million euros to 771 million. Revenue increased by 22 percent to 14.8 billion kroner. The confirmation coincided with news that the Danish company is developing a new giant V236-15.0 MW turbine that will be able to generate roughly 80 gigawatt hours per year – enough to power approximately 20,000 European households, whilst saving over 38,000 metric tonnes of CO2. The turbine could be ready by 2024. Meanwhile, rivals GE and Siemens Gamesa are developing similarly-sized turbines. The average turbine in 2019 was 8.2 MW.
Prinoth adds Denmark-based Wirtgen to its distributor list
Prinoth has added Wirtgen as a distributor of its Panther vehicles in Denmark. Wirtgen, which has been distributing Prinoth's line of vegetation management solutions for more than 15 years, is headquartered in Fredericia. Off-road tracked machines are ideally suited to the terrain of Denmark.
Another Wyndham Hotels & Resorts complex planned for Nordhavn
Wyndham Hotels & Resorts has confirmed plans to open a 444-room complex in Nordhavn. Embodying architecture inspired by the city's historical warehouses, facilities will include a rooftop fitness centre. The Comwell Copenhagen Portside Dolce is part of the Dolce by Wyndham brand, and it follows in the footsteps of the 240-room Comwell Aarhus Dolce by Wyndham, which opened close to the harbour in September 2019.
Danish company among bidders for major Taiwan wind project expansion
A Danish company is among those chasing a major contract to expand the Hai Long offshore wind project in Taiwan, reports Upstream. The winners of the tender will be charged with installing an extra 1,044 GW of capacity at a site that currently has just 35 GW. The Hai Long project is owned by Northland Power (60 percent) and Yushan Energy and Mitsui (20 each).