News
Denmark gives millions in aid to war-torn Yemen 
---
This article is more than 2 years old.
Some 125 million kroner earmarked to help hundreds of thousands of severely malnourished children who are staring into the abyss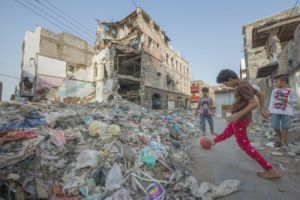 Denmark has agreed to set aside 125 million kroner to help alleviate one of the world's worst humanitarian crises in Yemen.
According to the UN, the embattled country is teetering on the brink of starvation and around 400,000 children under the age of five are seriously malnourished and risk dying in the near future.
"Unfortunately, the crisis in Yemen is often overlooked, despite the situation being very critical and people facing starvation," said the development minister, Flemming Møller Mortensen.
READ ALSO: UAE Ambassador urges action to alleviate crisis in war-torn Yemen
COVID-19 not a help
It is estimated that over 16 million people are on the brink of starvation and 5 million are in danger of dying of hunger.
According to the UN, the crisis in Yemen requires nearly 4 billion US dollars in aid. 
The current crisis has been brought on by a conflict that has raged between the Yemeni government and the Houthi rebels since 2015.
The conflict has severely restricted humanitarian efforts in the country, and the COVID-19 pandemic has further exasperated the situation.
Since 2015, Denmark has given 890 million kroner in aid to Yemen.