News
Denmark's recent cancer record "not good enough" concedes PM
---
This article is more than 2 years old.
Frederiksen blames a healthcare system that has become so specialised it is unable to cope with mass hospitalisations anymore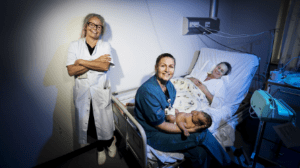 In an interview with TV2, PM Mette Frederiksen has conceded that Denmark's healthcare system needs a rethink in light of the fewer cancer screenings conducted during the Coronavirus Crisis.
Opposition leader, Venstre chair Jakob Ellemann-Jensen, drew attention to falling diagnosis rates during his criticism of the government's reopening negotiations.
And not only are there fewer screenings being carried out, but results are also being drastically delayed.
READ MORE: Mette Führer's springtime for Denmark: Government accused of dictating coronavirus lockdown reopening terms to blue bloc
Six-week wait for results
For example, patients in the Capital Region waited up to 58 days to find out the results of breast cancer screenings between November and January – far in excess of the normal 14-day waiting time, reports TV2.
According to Kræftens Bekæmpelse, 30 women are diagnosed with breast cancer a month in the region, which means 90 have had to start treatment nearly two months later than what is ideal – the difference between life and death to some.
The delays have been blamed on staff shortages caused by corona and IT problems. Since the findings, radiologists have been instructed to prioritise cases that look the most likely to be cancer.
READ MORE: Corona latest: Venstre prepared to accept higher death toll; April hospitalisation numbers overestimated, concedes health authority
Specialised at a price
Frederiksen acknowledges that the healthcare system has become too specialised and is no longer able to handle a large rush of hospitalisations.
"The health service has become far, far more skilled than it was, but it also comes with a price," she said.
"There is not the room for people to be hospitalised to a particularly high degree anymore, and it does not take much strain, for example in the intensive care units, before it starts to affect others."
Delays and overcrowding the norm
The rule of thumb in Danish healthcare is that all operations are subject to delays when the number of nationwide hospitalisations exceeds 600 – and cancelled indefinitely should they total more than 1,000.
Healthcare's neglect of the cancer sphere is "not good enough", contended Frederiksen.
Danske Patienter concurred that bed space has become a huge issue over the last 10-15 years – and that overcrowding has become the norm, not just something witnessed during the flu season.